Appetites increased at Mesa's Thanksgiving Feast
San Diego Mesa College hosted a Thanksgiving Feast event prepared by the Associated Students and culinary arts students. Timothy Ackerson, 21, psychology major and AS senator, planned this event with the help of the Associated Student Government. Ackerson presented a bill during the AS meeting in order for the event to take place.
The event featured jazz music played by a musical presentation group and the songs "Halo" by Beyonce, "Imagine" by John Lennon, and "Born This Way" by Lady Gaga covered by AS Senators Sofia Gonzalez and David Yusha and pianist Matthew Domanguera. Gonzalez sang "Halo" and "Imagine" alone with Domanguera playing in the background and Yusha sang with Gonzales during the last song cover of "Born This Way." The audience applauded and cheered for an encore after the last song was performed.
Advisor Victoria Miller presented a speech before releasing the tables to get their food. Miller credited students for the hard work they put into the event. "All of this; the music, the food, the decorations… they are all provided to you by students," Miller said.
AS Senator May Nguyen handed out raffle tickets to students as they sat down and waited for the event to begin. Ticket numbers were called out and winners were able to claim prizes including gift cards from Amazon, Uber, and Trader Joe's. Samantha Festin, a 20-year-old majoring in journalism, won the last prize that was handed out: an Uber gift card.
The event took place on Nov. 15 from 2-5 p.m. in the Mesa Commons building. Students were welcomed in by the Associated Students and brought their appetites to the room. Food included turkey, ham, vegetables, cornbread, mashed potatoes, salad, and lasagna. The Associated Students discussed the budget of the feast during their meetings and used the funds that were available to them in order to make the event possible.
The event turned out a success as students stayed even after they finished eating to talk to each other and listen to the musical performances provided to them. The feast gave all students a chance to celebrate Thanksgiving in a way that allowed for the opportunity to meet others and communicate with fellow peers.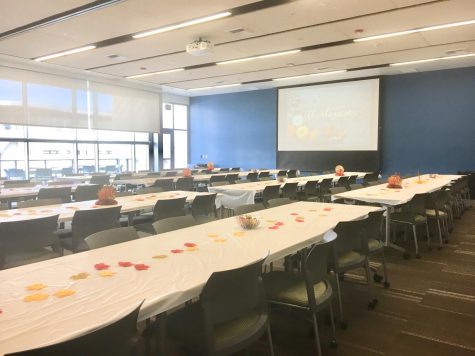 Samantha Festin
Thanksgiving Feast decorations set up by Associated Students.