Mesa Moves a packed theatre to thunderous applause with Dance Spectrum recital
May 22, 2023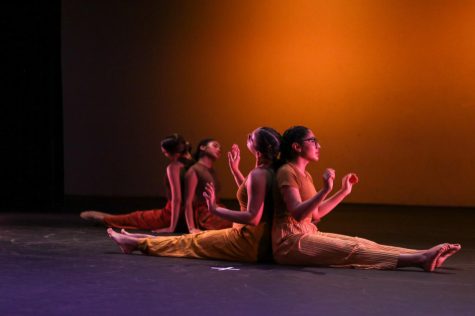 Artistic expression mingled with athleticism, passion and storytelling, onstage at Mesa's Apolliad Theatre on Thursday May 18, in front of a packed house. A spare seat was tough to find as Mesa's Dance Department, Mesa Moves, put on their opening night performance of Dance Spectrum: a comprehensive recital of various dance styles including Jazz, Modern, Contemporary, Ballroom, Tap, Ballet, Fusion, and the audience's favorite– Hip Hop.
The show consisted of sixteen numbers, some composed of several songs each. The dancers took the stage with confidence and skill, demonstrating the work they put in this semester. Each vignette told a story, from stars and planets dancing in space, to love, pain, and joy, the dancers shared wordless tales with the audience through their movements and the emotion in their faces.
Dance Spectrum showcased the students' talents in dance, choreography, and multimedia as well. In the number entitled "Reflections of Internal Conflictions," a screen was lowered onstage and was used to play a pre-recorded video of the Mesa Moves dancers in a desert sandscape, to accompany the live performance, leading to an exciting and dynamic experience for the audience.
Madilynn Chavarria, a second year student in the Mesa Dance program, and choreographer of this multimedia number, said that the process of putting a dance together with her fellow dancers was new to her, and that both concert directors, Blythe Barton and Donna Flournoy, were very encouraging throughout the process. 
"Having an opportunity to display my work was a huge growing experience.  Personally, for the piece I presented, it related to all of the stress and emotion over these past crazy years; wanting to run away with all that was going on in the world and my personal life, but having to stay for my responsibilities. Each of my dancers was able to relate to this piece, so we were able to create and feel together, which was my favorite part of this experience," said Chavarria. 
The feelings that the dancers created together were not contained to the stage, but multiplied and spread to the audience. Friends, family and fans of the performers sat eagerly with bouquets of flowers in their laps, and cheered feverishly at the close of each number. 
The Hip Hop dances enlivened the audience and drew uproarious applause each time, as the dancers synchronized pops and locks in baggy clothes. Some audience members found it difficult to remain still during these numbers, dancing along as if they too were onstage with the Mesa Moves dancers.
Following Intermission, Mesa Moves challenged the idea that a dance must be accompanied by music, with a long number where the dancers moved to old time radio commercials for products including Coca-Cola and Mr. Clean, ending with a Cold War era commercial that used a cheery, sing-song tone to advise listeners to "duck and cover" for shelter from a bomb.
The dancers gathered onstage, crouching forward and raising their arms to shield their heads, frantically dancing around one another. The commercial became more urgent, repeating "Duck and cover," so many times that the repetitions began to overlap, as the dance reached an unnerving climax. This number felt ominous, and satirical in its commentary on the current state of fear that has begun to feel familiar to an audience that survived a worldwide pandemic, to live in a country where mass shootings have become commonplace.
The simple costumes and sets served as great reminders to focus on the dancers and the stories they had to tell. Dancers with different levels of practice and skill, of varying ages and demographics shined onstage at the Dance Spectrum performance. The Mesa Dance Department offers technical dance classes, as well as classes in dance theory, for those interested in expanding their knowledge and connection with dance.