Kendrick Lamar's "DAMN" makes listeners say damn.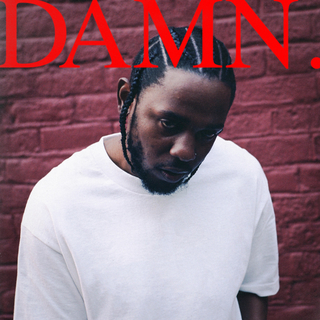 Hang on for a minute...we're trying to find some more stories you might like.
Kendrick Lamar's "DAMN" takes listeners into a constant fight between wickedness and humility, weakness and strength, love and lust. Since Lamar's first release with Top Dawg Entertainment label company he has had the recurring themes; growing up in Section-8 housing, living around gangs, his rise to fame, his struggles being famous, the misrepresentation of rappers, black people and its culture, relationship issues, Lamar is able to relate with young adults.  Lamar although  says he's not an activist, his lyrics says otherwise mentioning kids being deterred from school, to companies taking advantage of their workers.
"DNA," one of the highlight tracks in the album begins with a transition from "BLOOD" which has explosive beats makes anybody listening to it headbang so hard it hurts. Lamar has  pride in his black heritage and culture, condemns anyone who oppresses and profits from them. He also emphasizes how important loyalty is for him dedicating a song to it. The lyrics and creative hooks are nonstop in the album, he is able to create new rhymes with his use of repetition.
In contrast to "DNA," "YAH" Lamar's voice drags his voice, slurring every word feeling "weak." As he struggles being a famous rapper, losing friends to gang relations, and his obsession with his art. Lamar also mentions his problem with being misquoted by Geraldo, and the misrepresentation of rappers as gangsters and violent people. Geraldo, after a couple hours of the release, posted a video on Facebook of his response to the album, "too much of rap in the last couple of decades has really portrayed the cops as the enemy, as the occupying army in the ghetto, in the inner city, in the urban centers" doubling down on his criticism on Lamar.
Through each album Lamar has matured as an artists, his ability to tell a story through rap has become a staple of Lamar. Lamar reinforces what most people think that he is one of the best rappers alive. With his storytelling ability, his collaboration with other artists like Flying Lotus, Thundercat and U2. Lamar also set the bar for rappers, daring any to challenge his art.
Going into the record Lamar should expect a great album by Lamar based on his last two successful albums. But if Lamar has taught us anything it's to expect better hooks, better lyrics and better beats. Lamar on "DAMN" exceeded expectations, from the first enthralling track with the motown vibe. Lamar continues to blows minds with banger after banger. Lamar continues to blow minds with his lyrics and keeping Genius.com hand is helpful to make sure everything is heard. There are sections worth repeating that will make listeners laugh or think. Although most of the album is enjoyable, on  "GOD" the beat felt recycled and the humming by Yung Exclusive gave it a boring ring that just kept droning on and on.  It was also the one song that felt like a select amount of rappers could do better than Lamar. Overall the album was a great, every album Lamar releases makes his audience  a bigger fan of his art. Not because he's commercial but because his lyricism is better than most rappers.