Faculty and students discuss free speech vs. hate speech at second annual teach-in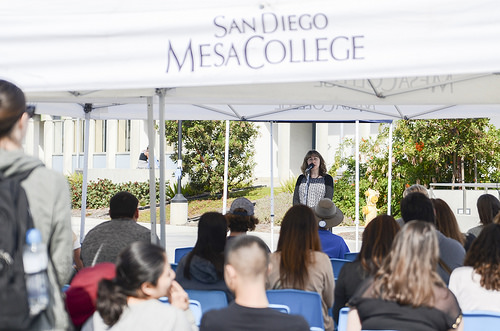 The second annual teach-in made its presence in the Mesa Commons Promenade as a diverse group of faculty members spoke about their experiences and knowledge about free speech vs. hate speech. This event also encouraged students to ask questions and give their own input.
"It's been really important for us to be involved in this because we care that there is a safe and free space for you here on campus, so we're here to support that," said staff representative Trina Larson.
The teach-in topic of "Free Speech vs. Hate Speech" was to address the question posed by the New York Times "What does freedom of expression on a college campus mean to you?" after the Berkeley Patriot, a conservative publication at UC Berkeley, organized Free Speech Week. Milo Yiannopoulos was a confirmed speaker, while other conservative speakers including Steven Bannon and Ann Coulter were expected to join, but not confirmed, causing another possible uproar and protests on the Berkeley campus.
Organizers of the teach-in thought it was just as important that colleges and universities sponsoring campus events recognized how things like the teach-in could benefit students and faculty. Various features of free speech were discussed during the teach-in, including the right to free speech in regards to the First Amendment in the Constitution, confirmation bias, free speech in sports, unintentional cyber bullying, and how free speech is conducive to critical thinking and in order to understand why others feel a certain way, we need to find out why they feel that way and not dismiss them.
"If I listen to just people like me, I become subject to something called confirmation bias. It's really easy to talk about it in others, but not always easy to see it in yourself. If you dismiss people because of how you categorize them…we don't get to change things, we just get into squabbles." said psychology professor Inna Kanevsky.
"All of you probably have an internal mechanism, that when you hear something that is different from the experience that you've had, it can feel hateful, whether it's toward you or someone else. It might still be free speech…this is your opportunity to decide what you believe and how you believe it and how you think critically…you don't become a Republican, or an Independent, or a Libertarian, or a Democrat, you become an educated citizen of the United States." said President of Mesa College Pam Luster.
"Free speech means hate speech. Free speech means burning the flag. There's coming a day soon when we might have to go through that again." said geography professor Mark Trembley, who was at UC Berkeley during the free speech movement at Berkeley in 1964.
The first teach-in was in response to last year's November election, which allowed people to discuss and vent about election results. Due to the first teach-in's success, a teach-in will be held every fall for staff and students.