Tools For Being Media Savvy in an Age of Fake News
Hang on for a minute...we're trying to find some more stories you might like.
San Diego Mesa College kicked off the first of many workshops hosted by Restoring Civility to Civic Dialogue to provide students, professors, and aspiring journalists inside information on the impact media literacy has on news stories. Tools For Being Media Savvy in an Age of Fake News was presented by Union Tribune editorial and opinion director, and  award winning journalist Matthew Hall. The workshop took place April 10 on the fourth floor of the Learning Resource Center.
About a year ago, Dean of Student Affairs Victoria Miller and Director for the Institute for Civil Civic Engagement Carl Luna had a meeting with student leaders about bringing one of these workshops to Mesa. These presentations usually take place in University of San Diego but with the help of professor Michelle Rodriguez and professor Veronica Gerace, they were able to make it happen. Now, the workshops have been extended around the San Diego Community College District.
Living in a generation surrounded by media and news it is important to signalize what is actually true and what is misinformation. Hall gave some quick tips to find a credible source, one being to always check the URL of the story. Some other helpful tips he gave include; making sure the publisher and content are reliable helps the audience feel legitimacy towards the article. Checking the date of the story is helpful to know whether it was published several years ago or recently. Searching for hyperlinks and annotations is also helpful to insure your sources are reliable.
Hall stated, "As a Journalist, you have to avoid being bias and instead focus on being fair with society while keeping a balance between the issues. Readers are then allowed to create conclusions based on their readings and discuss both sides of the story."
Communications Major Cesar (who declined to give his last name) attended the workshop and said, "It was very helpful to hear from someone that has so much experience and knowledge in the field of Journalism. From now on, I will carefully look at websites and see if what they are publishing is legit or fake news."
Hall touched on this subject by addressing, "fake news, is used to misinform, but now it's mostly used to disinform. It's false or inaccurate information spread by accident or design, poor journalism, information without context, conspiracy theories, clickbait or sensationalism, propaganda or profit-ganda, hoaxes, and humbug news."
San Diego Mesa Journalism professor Sylvia Mendoza mentioned that, "Working with Matthew Hall in the Union Tribune has been such an experience and seeing what he is doing with the community is simply amazing. As journalists we have to be the watchdogs of society. We have to seek the truth and report it."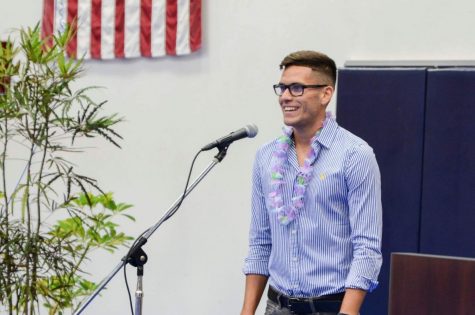 Chris Varela Benitez, Sports Writer
Chris Varela Benitez is a sophomore student athlete at San Diego Mesa College. He competes in Track and Cross Country and is excited to be part of the...