Mesa Spreads Awareness for Sexual Assault
Mesa College embraced National Sexual Assault Awareness Month at Sunrise Plaza April 25 in addition to the Clothesline Project.  
Student Health Services and the Center for Community Solutions joined together to provide students with the opportunity to educate themselves on sexual assault and consent. Tables were provided to decorate positive affirmation t-shirts for the clothesline project, a consent game in which you define what scenarios are consensual or not and flyers with resources and advice.  
The Clothesline project began in the 1990's as an address to the issue of violence against women. Different color t-shirts now represent different types of abuse to resonate with many victims of assault. Mesa college honored this project by encouraging students to create a positive shirt to remind survivors they are not alone and others support them.  
Mark Malebranche, nurse adjunct, wanted to make students aware of this day and spread the knowledge of good choices. It's important to remind students what makes a healthy relationship he stated.
"People don't realize what is good or bad sometimes," Malbranche said, "we have to keep these concepts at the forefront."  

The event provided a consent game where students would be given situations, especially intimate ones, where they have 3 cards of consent to match the situation. Green meant consent, yellow meant unsure and red meant no consent. Many people played the game but it was a majority of males participating in the activity.  

Peer educator and student Emily Hanes attended the event said, "men need to learn more about what a woman goes through so they can help solve the problem."    
Hanes understands Mesa is primarily a commuter school and that students don't have much opportunity to get to know each other. With events like this, she believes it's especially important to raise awareness and involve the community in the discussion.  
Social media comes to light and Hanes stated that it is a big issue in idealizing and glorifying unhealthy relationships and behaviors.  
According to the National Sexual Violence Resource Center, 1 in 5 women and 1 in 71 men will be raped in their lifetime. Nicole Teran, victims advocate, with the Center for Community Solutions urges students to seek their resources and know people like herself and Malebranche are there to help and support. "There's a lot of education for consent that needs to be done," Teran said. She is actually involved with the San Diego Community College District to provide her confidential services on campus to students.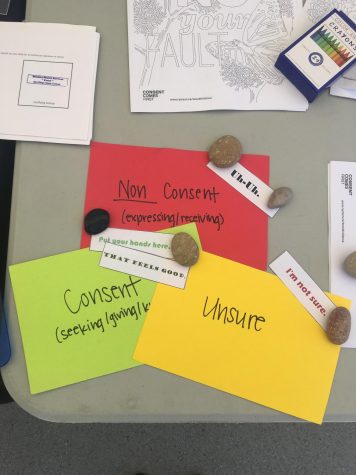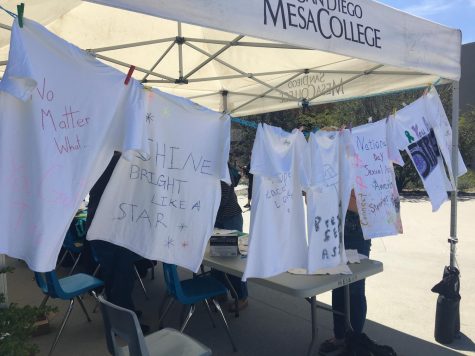 Consent is not a one time thing and it's important to constantly be checking in with your partner and practicing healthy relationships. The new motto that the advocates are pushing instead of "no means no" is "yes means yes."
Teran and Malebranche agree that prevention education is the most necessary right now in teaching people accountability, support and boundaries.