League of Innovations Art Contest Results
Students in the three schools in the San Diego Community College District took part in The League of Innovations Art Competition where the top five finalists will compete with other community college students across North America.
Among the top five finalists was Gianni Eason, at San Diego Mesa College political science major who has a passion for art. Eason draws inspiration from artists like Frida Kahlo, Tim Burton and Salvador Dali. He first got a taste for his love of art when his father would draw on his lunch bags, and Eason would trace his dad's work.
Eason was encouraged by art professor, Cara Smulevitz, to submit his work to the contest back in March. His piece titled "TOFU," an oil base painting that was altered digitally, was inspired by contemporary artist Trenton Doyle-Hancock. Eason mentioned, "Hancock is just a really weird, funny man and his artwork is so interesting and entertaining so I tried to (mold) our styles to make a cool blend of realism and surrealism."
Another finalist in the show was Jenny Tran, a student at San Diego Miramar College, who did an acrylic piece based on the question, "how do you communicate the passing of time using tonal or color shifts." Her professor, Jessica McCambly, spoke in her absence stating that "the piece is called 'Two Vietnamese Women Doing Laundry' and her work really deals with social and cultural issues." McCambly also mentioned that Tran's work focused on the disconnection she felt between herself as a first generation American and her immigrant parents from Vietnam.
Gabe Dimagiba, another finalist from Miramar College, showcased a piece called "Symphonic Evolution," made of wood and other forms of mixed media. His all-white piece consisted of different sizes of CDs and vinyls, as well as CD players, an old cassette, part of a piano and small saxophones, to demonstrate, as Dimagiba says "how we listened to music throughout the years."
The five finalists will move on to the national competition. Those who qualify for nationals will be published in the latest issue of the catalog as well as be awarded cash prices.  
About the Contributor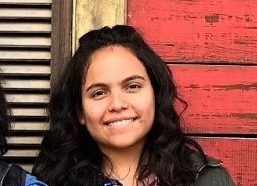 Mayra Figueroa Vazquez, Co Editor-In-Chief
Hello! I'm Mayra. I am a quiet introvert who loves storytelling. In my free time I enjoy watching and critiquing movies, going to art galleries and exhibitions,...