Mesa hosts its first annual free throw challenge to raise money for the Resiliency Fund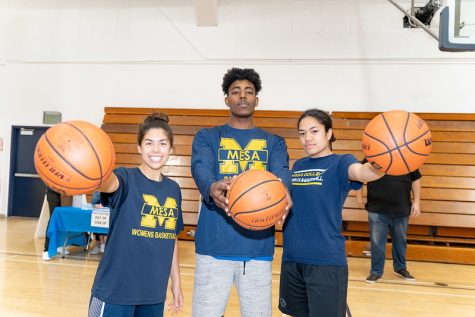 Crowds filled the gymnasium at Mesa College for its first annual "Step up to the Line: Resiliency Fund Free Throw Challenge Fundraiser." The charity event, held on Nov. 15, was organized by Classified Senate President, Charlie Lieu, to raise money for the Resiliency Fund.
"I wanted to create a fun event for everyone," said Lieu, who also added that he wanted to bring the community together to donate to a great cause. According to the Mesa College Foundation's website, the Resiliency Fund will provide emergency grants and loans of $50-$500 to Mesa College's most vulnerable students so that they can overcome financial setbacks without having to drop out of college. So far, $66,842 has been raised, with the goal of reaching $250,000 in order to help at least 1,000 students stay in college.
Players of all ages competed in the event — the youngest team, Solana Beach Elite, consisted of three kids in middle school. Participants showed a wide range of basketball skill levels, some unabashedly putting up "granny shots," proving that everyone was simply there to have a good time. Each team was given five minutes to warm up and then 15 minutes for their three players to shoot their 10 shots.
Lieu participated in the event by playing on two different teams: Charlie's Classified Angels and Brick City. Noteworthy participants include President Pam Luster who played alongside Vice President of Administrative Services, Lorenze Legaspi, and Acting Dean of Institutional Effectiveness, Bridget Herrin. 
The 32 teams that participated in the fundraiser included #ballin4equity, 99 Problems but a Swish Ain't One, AAA Roadside Assistance, Air Buds, Ashanti's Hands, Associated Students, Bro-Ly Trinity, Buckets, Bucketz for Dayz, Classified Three Musketeers, Data Dunk, Don't Stop Ball-ieving, Double Stuffed, Dunkin' Donut, Gone with the Win, Health Nuts, Hoop Divas, Hoop There it is, LRAStars, Mesa Ballers, Solana Beach Elite 2, Tech No Prisoners!, The Mesa Olympians, The Stand Ballers, The Tce Globetrotters, Thought This Was Quidditch, and WE'Re Upnext. There were teams that went above and beyond in showing their team spirit by dressing up in costumes: Charlie's Classified Angels wore angel wings, Hoops I DID it Again dressed up as Britney Spears, and Free Radicals wore basketball hoops around their necks like a necklace.
The team that came in first place was The Mesa Olympians, scoring 25 points. All three players on the team play for either the men's or women's basketball team here at Mesa. Cameron Hill, a forward for the men's basketball team, shared his enthusiasm for the event. "The event was pretty fun, I didn't expect so many people to show up!" When asked what brought him to participate in the competition, he said, "I heard there were gonna be kids here at the fundraiser so I felt it would be good to pass on experience and just help the kids out."
Double Stuffed came in second place. The whole team was made up of staff in the athletic department: Ryan Shumaker (dean and athletic director), Gary Watkins (head coach for men's football), and Travis Nichols (head coach for men's basketball) who scored a perfect 10. In third place were the young stars of Solana Beach Elite. Its team members were Gavin Herrin, Ethan Pollereno, and Chase Othick — who also scored a perfect 10. 
Prizes were awarded to the teams in first, second, and third place. The first place prize was lunch with the president of the winning team's choice (options aside from the Mesa College president were presidents of the Academic Senate, Classified Senate, Associated Students, and the Mesa Foundation). The second place prize was a $75 Mesa Bookstore gift card and the third place prize was Mesa apparel and swag.
A total of 347 free throws were made by all of the teams combined. As part of the "And 1" matching donation, the Classified Senate, Academic Senate, President's Office, and Dean's Council, each will contribute equally to this total: $86.75 per group.
All funds raised at this event were also matched by the Mesa Foundation, along with all other donations to the Resiliency Fund. The Mesa Foundation is matching up to $75,000 between now and November 28th.