The future could be bright for ladies tennis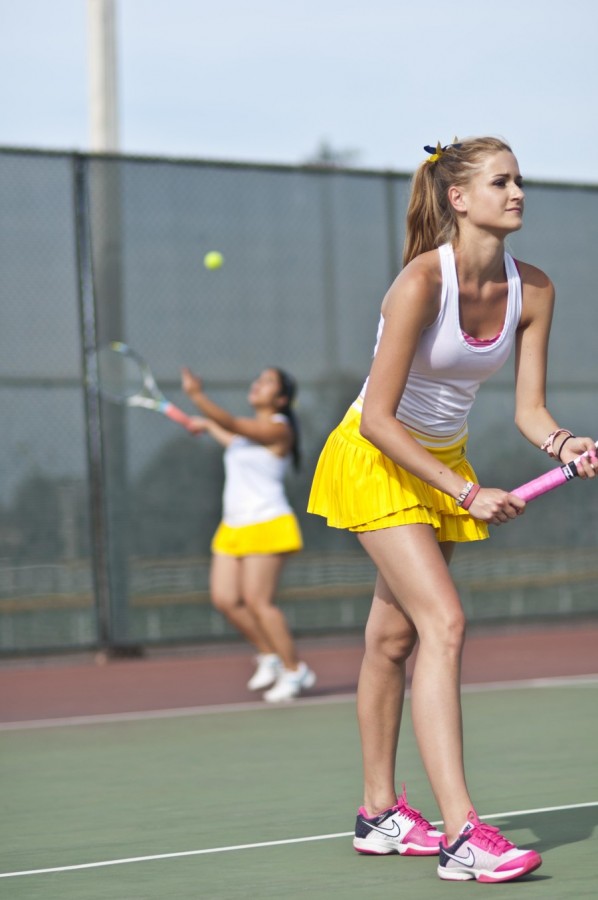 You have to look beyond the record of the ladies tennis team to fully understand what is happening in the program.
After six games, the team is winless under head coach Marc Pinckney. He took the position for this season and is working to completely change the work ethic of his team.
"This is my first year here. It was disorganized, there wasn't a fitness program, and there wasn't a teaching program in terms of working on player's skills," Pinckney remarked. "This year is about getting people in shape, having structure, giving players very clear expectations and consequences when team rules are violated."
Anastasiya Trachenko, a freshman, is the team's number one singles and doubles player, and according to Pinckney, she is "a really, really good ball striker."
Her doubles partner is sophomore Erika Castro.
"Erika is really good. She's a fighter, and she has a great backhand," Pinckney said.
Another solid player is Corrine Rivera, who has the best record on the team.
"Rivera is playing great. She doesn't have the best tennis skills on the team, but she is an amazing athlete," Pinckney commented. "She's unbelievably competitive. Every drill we do, every run we do, and every sprint we do, Corrine wants to win. You can take a player with that kind of attitude and teach her some tennis skills. It's a lot easier to teach tennis skills than to teach that kind of attitude."
"Sophia Najera a very talented player is due back in the lineup any day from a series of back/shoulder injuries. She has the ability to play number one on this team and will make the overall lineup much stronger both in singles and doubles," said Pinckney.
It is a rebuilding year, and it started in January with lots of conditioning. In the first week, the coach did not even let his players touch the tennis racquets. Instead, they worked on footwork and ran for an hour a day on the track for a total workout of two and a half hours.
The next three weeks, before the season started, was a little different. They started with a half-hour conditioning and followed that with a little over an hour and a half of tennis.
Even though they lost 9-0 to Grossmont College, the coach had a reason to like what he saw: Most of the matches were close.
"I think we have a shot to go .500 in league. To win half of our games in conference wouldn't be an outrageously high expectation," Pinckney added. "The way they competed today, if this is an effort that can be replicated, we have a shot [at .500] because today was a good effort."
One of the reasons Pinckney wants the program to be successful is that it will bring in better recruits.
"We basically designed this the way a good Division 1 program would. We're trying to set up a culture that when we start recruiting better players. They have to like what they see," Pinckney stated.
According to the coach, when the recruits come, they will see a program that is working well and consisting of players that could play Division 1 tennis.
If you want to see a team on the rise, as well as some quality tennis, check them out on Mar. 4 at 2 p.m. against Palomar College.
About the Writer
Thomas Frey, Staff Writer
I'm the Sports Editor and this is my second semester at Mesa. I write for TheBeastBrief.com and tomfrey1st.wordpress.com in my spare time. I'm from Clairemont...