Softball in a race for the playoffs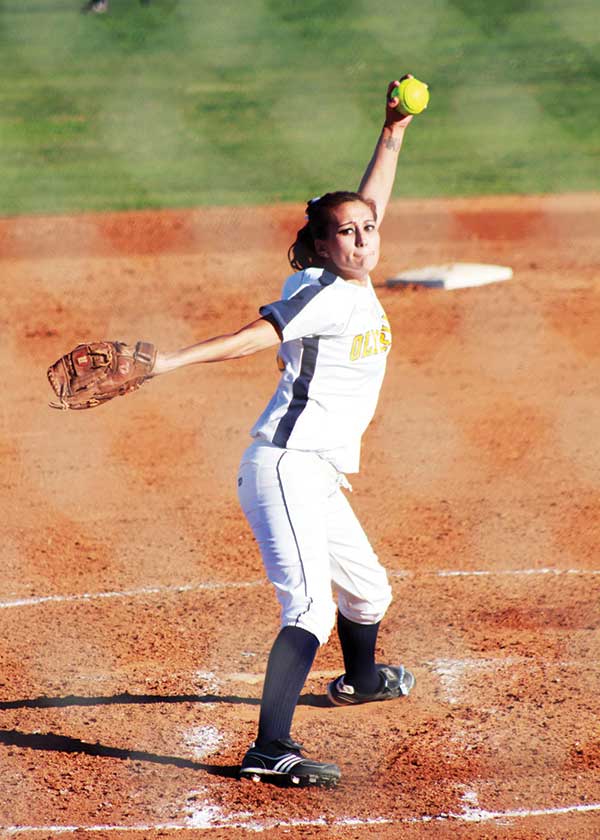 The Mesa softball team is trying to defend their back to back conference championships, including a trip to the Super Regionals last season.
The team has a tough road ahead since most of them are freshmen, but so far, they have competed well, and they are in a great position to make the playoffs.
"Having a winning record this season" is the hope for sophomore outfielder Tarin Marks, who is currently leading the team with a .411 batting average.
In league, they are currently 4-2, but overall, they are below .500. Playing well in league is what matters right now.
"The big thing is that if you go first or second in league, you go to the playoffs," head coach Jaclyn Guidi said.
At 4-2, the game against 4-1 Southwestern on Mar. 18 will have major implications on who goes to the playoffs. Palomar, the defending state champions, are undefeated and in a good position to take the one seed while Mesa and Southwestern will be playing for the second seed.
Last season, Mesa was a game away from the state finals, and "winning a state championship" is the goal for sophomore Taylor Heryford this season. Heryford is hitting .273 in 13 games. Second baseman Anna Ontiveros is only a freshman and is hitting an incredible .408. Four members of the Super Regional team moved on to play softball at a four year university. Another, Grace Hernandez, played at Mesa in Fall of 2012 but moved on to play at USD for the Spring semester of 2013.
Having her players move on to four year schools and finish their degrees is coach Guidi's top goal. Since arriving at Mesa, 22 of her players have earned athletic scholarships while seven more have earned academic scholarships.
"Take 15 personalities. They're all different, and put them in one spot," said sophomore Andrea Matt about the team. Playoff experience can be a key for any team. The sophomores like Matt, Marks and Heryford, along with Zehna Gilliam and Allana Hille, will have to show the veteran leaderships that they have so far this year.
Jennifer Carpenter is the top pitcher. She is 6-3 with a 4.03 ERA and 30 strikeouts in 64 and a third innings. She can also hit. Carpenter has an impressive .312 batting average. Only a freshman, Carpenter is getting great experience and could be a force next season.
Sisters Mackenzie and Megan Wright are having an incredible season, and they are only freshman. According to coach Guidi, "They're hitting pretty good," and the numbers back it up. Mackenzie, a first baseman, is third on the team with a .373 batting average while Megan, a catcher, is fourth with a .349 batting average.
Jazlyn Hallare is another freshman who is having an impressive year. She has the second most at bats on the team and is hitting .345.
Mesa is in a good position to succeed. If they can beat Southwestern and not lose to anyone besides Palomar, they should be able to make the playoffs.
About the Writer
Thomas Frey, Staff Writer
I'm the Sports Editor and this is my second semester at Mesa. I write for TheBeastBrief.com and tomfrey1st.wordpress.com in my spare time. I'm from Clairemont...