Aaron Ray's intensity and ability could drive the Mesa star to the NFL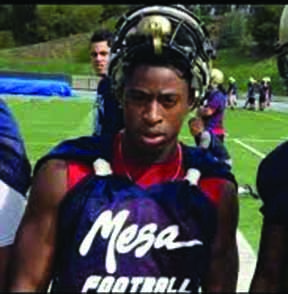 Hang on for a minute...we're trying to find some more stories you might like.
As a freshman, Mesa College cornerback Aaron Ray was a difference maker. He is now preparing everyday for his sophomore season where he will look to set himself up for a career in football.
Ray's work ethic and technique is what has taken him this far. He works out everyday either with Tech at "The Cave" in downtown or with his personal trainer Brian at Elite Ballers. These workouts are geared toward helping professional athletes.
"They're pretty intense, every workout. They're actually preparing me for the NFL," Ray said. These workouts include a lot of work in the sand, at the beach and in the pool. Ray calls himself a "Technique Freak" and models that part of his game after Darrelle Revis. These workouts are great for technique and perfecting the game.
The desire to make it is what keeps driving Ray. He has heard from Division 1 schools like Utah State University who won the Poinsettia Bowl, University of Nevada, Las Vegas, and former Charger Vincent Jackson's alma mater University of Northern Colorado.
"I feel I can do things naturally that other people just can't do," Ray said. "Like a regular person can't do. Anything you down for, I'm down for basically."
That type of hunger and intensity is rare and cannot be taught.
"I can cover. I can hit. My ball skills are impeccable, kind of like Tyrann Mathieu," Ray said.
He came to Mesa from El Cajon Valley High School to play right away.
"I felt that as an athlete at a community college, you only have two years, so you have to come in as a freshman and play, and I felt like Mesa was the best opportunity for me to start as a freshman, and that's what I did," Ray said.
Last season, Grossmont College and their two Division 1 wide receivers Nick Kurtz and Tim Patrick came in and played Mesa. Kurtz is headed to Bringham Young University and is ranked as the fourth best junior college wide receiver in the country by the recruiting experts at Rivals. Patrick is headed to the University of Utah in the Pac 12 conference. Ray shutdown Patrick completely by holding him to zero yards and zero catches.
Kurtz and Patrick are both big receivers.
"They would put me on guys to take players out of the game, and that's what I did." said Ray who continued. "After I played against them, I felt everything else was kind of easy after that."
Ray was one of the leaders of the defense, and with a year under his belt, has set high goals for the team and himself.
"I feel like we are going to go 10-0," Ray said. "This is the best defensive back unit I've seen at Mesa ever. The offensive line is good. We're running the spread now."
His personal goals of leading the nation with at least 10 interceptions are very high, but with his work ethic and attitude, he could do it.
After another year at Mesa, there is a great chance that Aaron Ray will be ready to not only compete, but start for a Division 1 team during the 2015 season. He showed that by shutting down the future Utah Ute Tim Patrick last season.

Thomas Frey, Staff Writer
I'm the Sports Editor and this is my second semester at Mesa. I write for TheBeastBrief.com and tomfrey1st.wordpress.com in my spare time. I'm from Clairemont...