Bryan Bare MVP of Mesa Water polo Team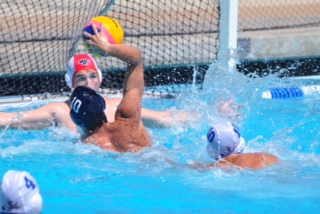 Hang on for a minute...we're trying to find some more stories you might like.
     Sophomore Bryan Bare, has made a huge strike in the water this year with 77 goals, and 14 assists, making him the highest point scorer on the team and MVP of offensive players within the PCAC junior league. He has been getting calls from schools such as San Jose State, San Diego State, and UCSD. He was also a top player in high school and was stunted in his scholarship opportunities when he got injured. He broke 2 fingers that didn't allow him to shoo the bal properly and as a goal scorer you cant play without them. His offensive game is shown through his speed, agility and ability to hop himself out of the water 4 to 5 feet. As a 6'4 175 player he has the ability to see over others. He had 51 kick outs this year which means he got 51 people kicked out of games by causing penalties just one of the major aspects of the game. Bryan was also added to 1st team all conference, and awarded PCAC player of the week in October. When I asked Bryan what he though about playing for Mesa he replied, "I like it a lot it helped me regain focus on some basics that I needed to work on and has bettered me overall as a player". Bryan is also a solid student out of the water maintaing over a 3.0 GPA his first two semesters. Bryan says he is looking to play water polo at San Jose State in the near future but might spend one more year at Mesa to becoming bigger and better in the water and in the classroom. Look out for Bryan as he will take the water again next fall and is expected to be again the best in the water and one of the top players in the entire league.