Mesa Men's Water Polo finishes tough season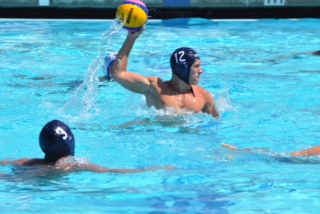 Hang on for a minute...we're trying to find some more stories you might like.
The Mesa men's water polo team has just finished up their season and maintained a record of 15-12 for the year. With players such as Bryan Bare as the best offensive player with a total of 77 goals for the season, and defensive force Armani Antonellis, who was awarded Most Valuable Defensive player, this years team was a force not to be underestimated. In the month of September they went 10-6 throughout the first 16 games which at the time was the send best record in the PCAC. With big wins over teams such as Palomar, Santa Monicia, and Mt. SAC, it set the place for the team to do well in the future for qualifying to make it to the State Tournament. In their biggest tournament of the year they went 0-2 at Miramar for the PCAC Tournament. Mesa needed to beat Palomar, a team Mesa went 1-1 with, losing by 1 at their last bout. Unfortunately Mesa couldn't find a way to win, losing again by 1. They than went on to play Southwestern as the lowest seed in the tournament and lost 11-9. Although Mesa did not preform too well at the PCAC tournament, they did place high at other such as 2nd place in the PCAC conference round as 5-3, they also went on the get 3rd place in the Citrus tournament. As the season concluded a major player Mario Ochoa was injured with a fracture in his right wrist, however he pushed through the injury very quickly and played out the rest of the season, giving him the title as the most inspirational player on the team, and also helping with fellow teammates out with a couple goals near the ending of the season. Overall the team is looking to improve their record for next season with some top prospect players coming in from across the state, and returners such as MVP Bryan Bare they will be a force to be reckon with.