Garrido stays undefeated, wins 2017 championship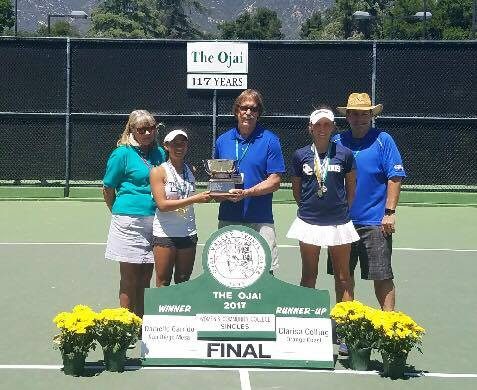 Undefeated Danielle Garrido played a familiar match during the 2017 finals for the California Community College Athletic Association Women's Tennis championship at Libbey Park in Ojai, California.  
Garrido was ranked the No. 2 seed, competing against Clarissa Colling of Orange Coast who was seeded No. 3. Garrido took the title with a nail-biting 7-5, 6-1 victory. It was Garrido's second consecutive state singles title. 
This wasn't the first time these college athletes faced one another. Last year, on the same court, on the same day, and for the same state title Garrido and Colling gave it their all. With Garrido taking home the 2016 state title beating Colling 7-6 (7), 6-2 , she was motivated to remain the best for the 2017 championship.
With an 18-0 winning record Garrido knew just what she had to do to in order to keep her state champion title. With a winning record it is hard to deny that she knows the game of tennis, but that doesn't mean it comes easy.
"I get so nervous before games that I physically feel sick sometimes for no reason" Garrido said. The determination and relentlessness is shown through many aspect of her tennis game. I've learned to play through it, try to remember to breathe, and think with a more positive mindset."
Not only did she with the 2017 Championship but she also became Mesa's first, two time defending state champion. "Being the first, two time champion for Mesa feels so amazing because this accomplishment not only showed that all of my hard work has paid off, but I also got to represent Mesa and make history for our school. On top of that, I had a really positive and fun experience with everyone over the two year course I've been here at Mesa," said Garrido.