San Diego's 'Un-sheltered' Share Their Stories of Homelessness and Hope
Most people don't set out in life with the intention of becoming homeless, destitute, and marginalized, but unfortunately that is a burden some have come to bear.
A short stroll through certain parts of downtown San Diego makes it impossible to ignore the magnitude of the homelessness crisis. Many people walk by, unable to help or unsure how to. Others feel moved to help in whatever way they can. That's what happened to San Diego Mesa College theater professor Sheldon Deckelbaum, who lives in downtown and encounters homeless people regularly. Moved by the suffering he sees on the streets every day, he turned to art and theater as a way to bring attention to the problem. The end result was a powerful documentary style performance by several Mesa College students called Un-sheltered. The play is a culmination of over a year of hard work by students, staff, and volunteers, and most importantly, the stories of the homeless people themselves.
When Deckelbaum first had the idea for the play, he contacted Father Joe's Village, the well known homeless rehabilitation program and outreach ministry in downtown San Diego. Together with the staff there, they found a number of residents willing to share their stories. Over 50 hours of interviews were then recorded with a number of residents. Their stories became Un-sheltered. Students in Deckelbaum's Experimental Theater class (DRAM 268) actually conducted the interviews after going through an orientation and a class at Father Joe's, and some of those students went on to play the role of their interviewee. Genesis Canty, who is in her third year of theater at Mesa College, played the part of Erica and met with her at Father Joe's on several occasions. They still keep in touch. "I was always really intrigued by this form of art because it's a different type of storytelling. You know, it's not just someone making it up, and just like a playwright writing something that he imagined. But it's an actual real-life story," said Canty.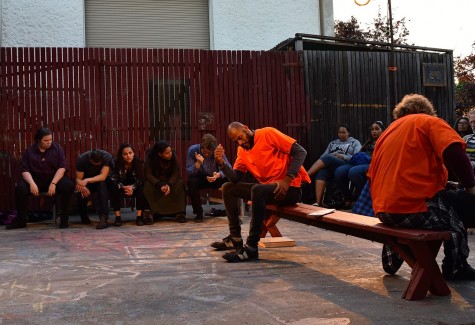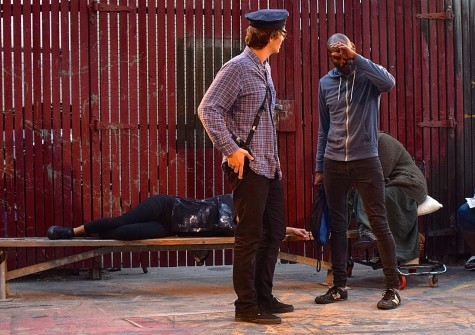 During a screening last year, the residents had the opportunity to hear their stories told in the form of 15 minute monologues by the actors. "One of the things that was very gratifying to me was that they felt honored and respected, and that their story had been told with dignity," Deckelbaum said.
The play at Mesa College was performed outside the theater on the cold concrete and steel loading dock, giving it an appropriate urban setting. Both actors and audience were exposed to the elements, immersed in the experience of the stories being told. As the sun dipped below the horizon, a chill settled down on the audience. Many audience members were bundled up in blankets. The stories told there were of discrimination, deportation, addiction, mental illness, riches to rags, illness, and loss. But there were also stories of hope, community, family, love, survival, and gratitude.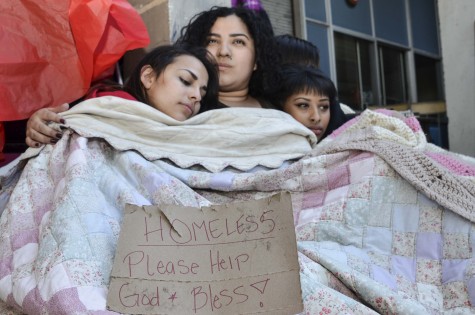 Earlene Adams has been working in residential housing at Father Joe's Village since 1999 said of the production, "Each and every portrayal of every background and the walk to homelessness and their walk to the shelter, I mean, you guys just blew it out of the water… I am just completely amazed… I was just in tears over here… You pulled on the heartstrings."
Actress Junnette Caldera said that hearing the interviews, learning about her character, meeting her, and embodying her for the play was the greatest experience she'd ever been through. "She's a very strong woman – she endured having a still-born child… The stories were just mind-blowing. Just to think that I could have gone through some of that… I don't judge people the way I used to. I have more compassion than I did before."
Although Un-Sheltered in its current form is no longer showing at Mesa College, current opportunities are currently being sought out to perform it at other venues. During a discussion between the cast and audience following the showing on Friday, April 13, there was widespread agreement that it should absolutely go on, and that every city should have its own production, written from the stories of its own homeless population. Given the scale of the issue, there is certainly no shortage of people and material to work with. While donating time, money, and resources is a great way to help those in need, storytelling has a power all it's own.