35th Annual Golden Scissors Fashion Show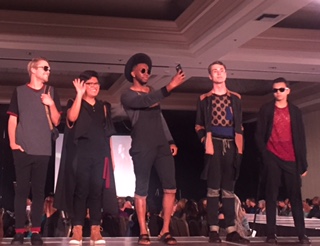 Our schools fashion program inspires many driven and talented students to dive into fashion with creativeness. The 35th annual Golden Scissors Fashion Show was themed as, "East meets West" where students took their collaborations and personal designs to the runway. This annual event is a stepping stone for many students, as they devote two semesters to planning and designing for the big day. From designers to models, make-up artists to hair dressers and promotion students to media; a large amount of dedication from students and staff was what made this years fashion show such a success.
Carla Woodson, 26, has been sewing since she was 13 and designing since she was 20. The 1930's and 1940's were her biggest inspirations for her clothing line. Woodson's vintage style made the audience go back into time to the good ol' days.
Keeping her style girly, Janeth Lacave who is 23, decided to mix her fine arts background with fashion and has been designing her own clothing for around three years. Lacave has always been intrigued by making her own clothing. Her line was inspired by vintage undergarments, lingerie, lace and silk. Lacave added a modern twist by creating a line with pastel colors and floral designs. She encourages other students to give fashion designing a try if there's interest by saying, "I use to think I can't be a fashion designer and I tried it and was like, "yes!"
Giving men more apparel options is Obed Aquino. As a 23 year old he was drawn into fashion designing by casually shopping with his friend. Aquino would go into a store and think, "Oh I could do this to this dress to make it better… or this could be much better if I took this out." His mens clothing line was all about making males feel comfortable and chic. Aquino's garments took mens clothing to a more fashion-forward look, a typical button-down shirt inspired him to create clothing that lets men feel modern and unique.
Mariah Oelke, 24, took a sewing class at our college and quickly grew interested in creating her own swimwear pieces. She began to buy fabric and with practice she continued to create. Oelke chuckled and said her first creations were awful. Her line had a bohemian style featuring fringe, snake skin and lace-up stiching. Oelke made it clear that her line's purpose is to make the women wearing them feel strong and beautiful.
While designers were busy adding finishing touches, production staff was keeping the program in order, media was setting up audio and lights, and models were caught up in the glam process. Paolina Manzano, 21, was a model out of many who was eager to walk the runway. Although Manzano is majoring in psychology she still likes to be involved with fashion as a hobby. She was lucky enough to walk the runway four times and enjoyed the classic pieces she got to wear of different designers.
The annual Golden Scissors Fashion Show inspires many to continue with their dreams; Whether it's becoming a fashion designer or graduating with a degree. Most of these students took advantage of the opportunity and semesters later had their own clothing line walked down the runway. The greater message is to dive into an interest and to do what you love. With this years fashion show being such a success, we'll have to wait and see what next years designs will bring!
About the Contributor
Karen Olea, staff writer
My name's Karen Olea and I'm a writer for the Mesa Press this semester. I'm majoring in Journalism Broadcasting with a minor in Spanish. I enjoy fashion,...