The hidden Italian treat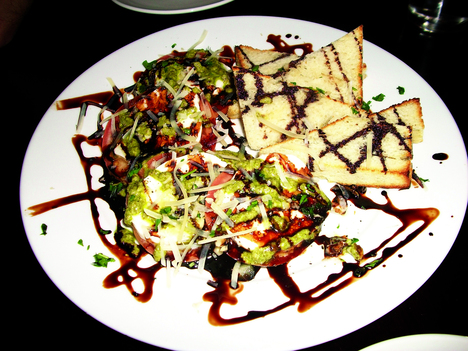 Tucked away nearly out of sight, Trattoria Firenze is a small family run Italian restaurant, where the amazing food is enhanced by the amazing two room ambiance experience.
The lovely entrance was built as an Italian deli or a small pizza shop, where you'll encounter the amazing aromas of an authentic Italian restaurant. The smells of sauces, fresh made dough, and other wonderful dishes dance in the air to welcome you.
Just to the left of the cash register there is a chalkboard with three daily specials. Behind the chalkboard are burgundy curtains that lead to the main dining area. Walk through the curtains and you'll find the beautiful ambiance that sings fine dining.
The walls, ceiling and floor are each made to look rustic and welcoming. The lights are typically dimmed for an intimate feeling. Each table is always set and ready to serve any group from a large family to a small intimate date or the individual who's looking for a quiet place to read.
This family owned and operated restaurant has been tucked away for years; a Clairemont secret nestled next to the Henry's Market on Genessee Avenue. Each dish is cooked to order with fresh ingredients and from scratch. Even their regular salad is finished with a homemade dressing which compliments the crisp and fresh lettuce and vegetables.
Their Caprese Bruschetta is a chunk of buffalo mozzarella over a slice of tomato, with fresh baked bread on the side. Drizzled with a basil pesto, slices of garlic and a balsamic reduction that adds a hint of sweetness to tie the flavors together.
As a main dish, the chicken marsala is a good option. A perfectly cooked chicken breast covered with a marsala sauce and sliced mushrooms, and while it is a marsala sauce, it's not heavy the way other Italian restaurants make theirs. This entree comes with a side of angel hair pasta that's perfectly cooked to the proper tenderness. The pasta and chicken individually are delicious, but combined they create a perfect balance of flavors.
While the full menu can be ordered at the deli side of the restaurant, for the full dining experience stay a while and eat in the main dining area. The main dishes run about $15 a plate, but the food is well worth the cost.
The desserts aren't listed on the menu as desserts change with the season, but their chocolate-hazelnut bread pudding is an amazing option throughout the year. Individually baked and served, the bread pudding maintains a firmness to its texture and is served hot with a large scoop of vanilla ice cream over the top. Each spoonful of vanilla ice cream perfectly combines with the chocolate-hazelnut bread pudding flavors and each combined bite individually melts with delight. A chocolate dipped crisp sits on top for presentation and to add to the flavor.
Trattoria Firenze also offers a wide variety of local and imported wines, as well as a good selection of beers. With their choices the guest will have no difficulty finding a wine or beer to compliment any dish. While the menu and website has a set list of wines, there is always a surprise or two at the restaurant. Ask your waiter to recommend a wine and you may find something amazing they hadn't advertised.
For the student on a budget, Trattoria Firenze offers a selection of lower cost, yet just as delicious sub style sandwiches, New York Style pizzas, and an occasionally changing lunch specials. Their commitment to fresh crisp veggies and great flavors makes Trattoria Firenze an amazing sandwich stop. If you have time constraints, call ahead. Like restaurants in Italy, the experience is meant to be enjoyed and never rushed. If you plan on eating at the restaurant expect to stay a while, enjoy the atmosphere, the food and perhaps bring a friend for good conversation.
Trattoria Firenze is an amazing find, with five star flavors at a reasonable and affordable price. It's located on 4421 Genesee Ave., they are open from Monday to Saturday from 11 a.m. to 9 p.m.