Review: Eminem's The Marshall Mathers LP 2
A quick peek into Eminem's career suggests a tale that only deals in extremes.
A high school dropout with a troubled family history, Marshall Bruce Mathers III realized early on that his success in the rap game depended largely on his ability to stretch and break the boundaries of the art.
It's been 13 years since he shattered such limits with the landmark album, "The Marshall Mathers LP." Now, Eminem returns to spotlight with a hotly anticipated sequel, "The Marshall Mathers LP 2," and fortunately, the album proves worthy of its title.
Described as a "revisitation" and "not necessarily a sequel," Eminem's latest project retackles the topics and issues from the original with a modern perspective as an older Marshall Mathers. It comes as no surprise, then, that some things have changed while others remained the same over the years, a simple concept that translates much more dynamically within the album's context.
In that sense, "The Marshall Mathers LP 2" can be interpreted in two distinct dimensions: its overall narrative and lyrical technicality. In terms of its narrative, Mr. Mathers focuses on the duality of his psyche as both Eminem and Slim Shady and the conflicts that arise as a result. On "Bad Guy," the narrative is told from the perspective of Matthew Mitchell, Stan's younger brother, as Eminem internally debates the overtly aggressive and vulgar nature of his lyrics. This, however, seems to be a quality that won't ever change as evidenced on "So Far…"
If the combative aspect of his narrative remains the same, the part that did change appears even more uncharacteristic of the artist: his growth as an individual. Although Eminem introduces the notion, ever so slightly, on "Bad Guy," it's realized fully on "Headlights," the album's most revealing and heartfelt track detailing his remorse to his estranged mother. "I went in headfirst, never thinking about who what I said hurt/In what verse, my mom probably got it the worst," Eminem recounts, "…but regardless I don't hate you/'Cause ma, you're still beautiful to me." Overall, however, the narrative more or less treads a similar ground laid by its predecessor, his evil alter-ego Slim Shady providing much of the album's tongue-in-cheek humors.
Where the album truly shines, however, is in terms of its lyrical technicality. Crowned as the Muhammad Ali of the rap game (i.e., greatest of all time) by the legendary Rakim, Eminem demonstrates his technical prowess as a pure lyricist on "The Marshall Mathers LP 2" through skillful applications of literary devices. One of the most impressive is his use of assonance to bend and juggle syllables to rhyme words that should not traditionally. Although every single track of the album is impressive technically, "Rap God" stands above all on which the rapper justifiably claims the title for himself after a six-minute showcase of his best compositions in a rapid-fire flow.
The album's weakest element, then, boils down to its musicality. With Dr. Dre and Rick Rubin at the helm as executive producers, it's a bit disappointing that only a handful of compositions are truly memorable. The rest, while certainly enjoyable, sounded too transparent without a driving character, almost as if they were an afterthought to Eminem's vocals. Some of these even sample classic hits like The Zombies' "Time of Season" and Joe Walsh's "Life's Been Good" that end up feeling too familiar.
So, what has really changed? Besides a more mature artist who may be starting to feel the weight of his age (41), nothing much it seems, and that's completely fine. "The Marshall Mathers LP 2" succeeds as a "revisitation" that concludes with Eminem deciding to focus on what matters the most to him: his family and his art. Some things are better left alone after all.
4.5 out of 5
About the Writer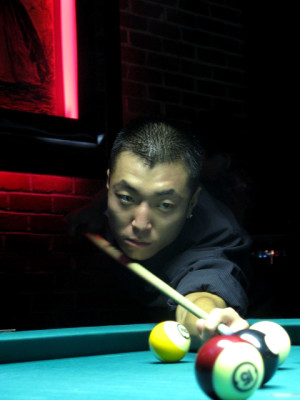 Jung Kim, Editor-in-Chief
Jung joined The Mesa Press as a Staff Writer for the Fall 2013 semester to pursue his passion for written compositions. He is an avid fan, advocate, and...