Chancellor Gives Positive Outlook on Budget and Enrollment
Joined together with fellow colleagues, Chancellor, Dr. Constance M. Carroll, touched base on San Diego's district colleges' great new budget plans and information on who Mesa's students are and enrollment fees.
With the Bachelor's Degree program on the rise Mesa College is prepared to bring the students more support and opportunity for success as ever. Bringing you more transfer degree programs at your fingertips.
Dr. Carroll starts with getting to know our students. Explaining how the Latino race is the fastest growing race by 36% in the district, followed by white, then Asian and African American being the same compatibility. Then going on to compare male and female with a 50/50 even amount of both sexes and an overwhelming amount of females in continuing education.
"Educating 60 thousand students" Carroll stated, from City College being our oldest campus, Mesa College being our largest and Mira Mar our fastest growing.
Carroll goes on to explain FTES, measured by a term known as Full Time Equivalent Student. This term translates into, if a student takes fifteen units which is a full schedule that constitutes as one FTES.  If for example five students are taking just one class of three units those five students constitute as one FTES. For each FTES San Diego College district receives approximately $4,800, which is a huge source of income the district receives from the state. The equivalent amount Mesa college hit last year was 34,000 Full Time Equivalent Students.
Residents include 40 students who may be undocumented on their way up to citizenship. With approximately 467 non-credit students that also receive FTES. Most are paid at credit rate, 20% is still paid at a lower rate. Then there are non-resident students who pay the same $46 a unit, except instead of paying an enrollment fee those non-resident students pay a tuition out of state fee of $193.
Carroll touches base on how large our districts are. Mesa College is topping off at 16,092 students followed by City College with 10,740 students. Then with this campus being the smallest Mira Mar College tops off at 8,210. With mesa being the largest college of the three, Carroll goes on to state that if we had an enrollment loss it would bring everyone down because the other institutions do not have "sufficient robustness" to overcome that issue. This is why teachers are forced to add more classes and make more room for student services.
The districts long-term goal is to have Mira Mar reach 10,000 FTES. As soon as they do they will bring in much more revenue to the district and begin to be a medium sized college. San Diego community college district received in COLA an estimated amount of 2.1 million. With portion and gross amount of 6.6 million with 3.5% which goes on growth of the state.
Moving onto the construction going on around Mesa campus, we are completing projects S and N, which had began in early 2002 with 88 projects finished up until this point. Which were done in a remarkable amount of time. Carroll emphasizes that our projects are LEED certified by the US counsel of agreement building. Our planning maps for 2015/16 are to finish the commons, the business technology center, the fitness center and the facilities support area. The overall construction will be finished in 2017. Also, the Enterprise Resource planning is to replace all our computer systems.
Dr. Carroll goes on to explain our bond measure issuance is coming to an end with 1 left to go. Our total this year for bond issuance is 1.625 billion accumulated with interest from the 1.555 "you know a billion here a billion there" Carroll goes on jokingly. These bonds sell remarkably quickly, one reason being that our college holds the highest bond ratings possible for community colleges, with both Standard and Poor's, AA+ and Moody's Aa1. Therefore, when an investor thinks about purchasing a bond of which typically sells at 300 million, the first thing they're going to ask is what the rating is? Dr. Carroll goes on stating that our rating is so high that 1 bond sold out in 2 hours at 300 million.
In conclusion, Chancellor Carroll emphasizes that this year will be the first, in a while, to have a great year with a great budget and our new Pilot program wishing our faculty and students the best to come this year.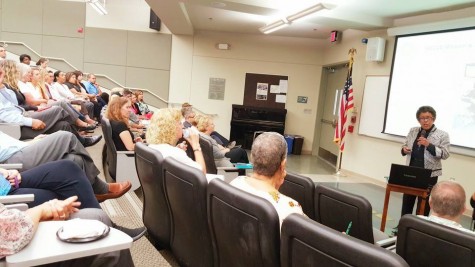 photo credit is Mesa Communication Services