'Beastly' is monstrously bad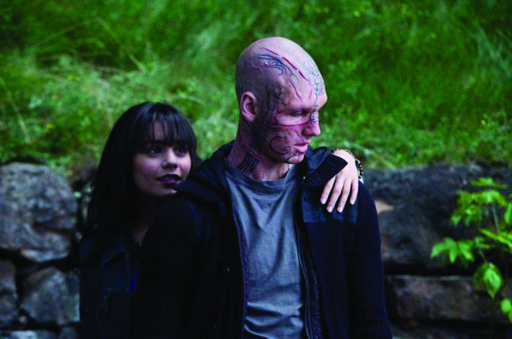 Hang on for a minute...we're trying to find some more stories you might like.
For a movie with such a serious title, Daniel Barnz's "Beastly" has more of a comedic yip than the roar implied by its title.
Alex Pettyfer stars as the film's male protagonist Kyle Kingsbury, a handsome and wealthy high school student who treats everybody like garbage. To put things in perspective, if Kyle were any more of a douche he would be a name brand at Rite-Aid. Emphasizing this for the audience, the film dedicates its first twenty minutes to a series of montages depicting Kyle going about his days telling ugly people they don't matter, taking shots at environmentalists, and picking on the local goths. It would not feel at all out of character if there was a scene of Kyle kicking puppies while whistling a jaunty tune.
The plot finally starts to move when Kyle invites campus goth Kendra Hilferty (played by Mary-Kate Olsen) to an upcoming party. When Kendra arrives at the party however, Kyle just laughs at her and tells her to leave. Kendra (apparently having chosen witchcraft for her elective that semester) leaves the party but not before placing a curse on Kyle that turns him into the teenage equivalent of Judas Priest's Rob Halford.
From here the plot stays on the tracks laid out by the original "Beauty and the Beast" off of which the film's source material is based. Kyle finds himself living alone and rejected by the world at large but eventually runs into the attractive Lindy Owens (played by Vanessa Hudgens) who looks beyond his punk-rock exterior and sees him for the beautiful scene kid he is on the inside. If this sounds like an overly satirical summary that's because it's hard to take the film seriously when its "beast" just looks like someone who's gone to a few too many concerts
The real problem with "Beastly" isn't the concept though, it's the acting. Watching Pettyfer portray Kyle's horror after he first transforms feels like watching an upset teenager who has been denied their prom. Hudgens on the other hand, in her role as Lindy Owens seems dead set on lowering the bar a notch further. When Owens is first informed that she will be forced to live in Kyle's home to protect her from debt collectors after her father, Hudgens responds with all the shock of someone being told by their parents that they'll be spending their summer in camp instead of on the sofa.
Hilariously enough, the characters with the most depth are actually the side characters Will Fratalli (Kyle's blind private tutor) and Magda (Kyle's maid). Fratalli (played by Neil Patrick Harris) frequently makes genuinely funny jokes that typically revolve around his blindness and Neil Patrick Harris brings an energy to Fratalli that makes him feel like a real human being. Magda (played by Lissa Gay Hamilton) is no less lovable though far more serious. A working mother who's children are stuck in another country waiting for their green cards, Magda serves as a motherly figure for Kyle, often giving him advice particularly about women. Aside from a stereotypical sounding Jamaican accent Hamilton plays the part of Magda flawlessly, often serving to rein in the tone of scenes when it's time for things to feel serious.
Given that Barnz based the film off of a book by the same name, it's hard to fault him entirely for the film's unrealistic feel. Perhaps it's even unfair to criticize a movie based on a book, based on a fantasy classic, for feeling unreal. But, there are times when the movie actually seems like it's about to become something insightful only to instead dart back into a stereotypical romance script for fear of breaking new ground.