The buffalo tots at R Gang Eatery are a grown-up twist on a school cafeteria staple. The crunchy exterior enrobes a gooey, blue cheese and bacon filled potato center. Photo Credit: Lauren J. Mapp/The Mesa Press
The love and practice of gourmet comfort food has infected the city, and some of the finest menu items in the genre can be found at R Gang Eatery, located at 3683 Fifth Ave. in Hillcrest.
The chartreuse house that the restaurant is tucked away in feels like you're sitting in your grandmother's kitchen, assuming that she likes sexy cocktails and brightly colored walls.
The airwaves at R Gang entertain with today's fun pop music while you check out the food menu and sip one of their signature drinks.
The dragon's kiss – made with Skyy Dragon Fruit and Stoli Razberi vodkas – is a fun and brightly flavored drink that you won't find at any old bar. Basil plays a supporting role in the house sangria, but stars as the fresh lead in the basil julep when muddled with Maker's Mark whiskey.
Story continues below advertisement
R Gang Eatery has menu items that you'll love unconditionally, even if they go straight to your thighs. The monkey bread, chicken and waffles, smoked gouda mac and cheese, scallop po' boys and shrimp n grits all have twists on their classic counterparts.
Everyone remembers popping the little, fried bundles of joy known as tater tots in their mouths as school children, and fortunately for nostalgic foodies across the city, many restaurants are now featuring grown-up tots. R Gang Eatery is no exception to this trend, with several versions of tots that are rotated on and off their menu.
The buffalo tots – a dreamy combination of bacon, creamy blue cheese and potato served with garlic, buffalo sauce – are totally worth the typo cost of $98, which is actually only $8. Another fan favorite is the "White Trash Tots", which are filled with Velveeta cheese and chopped Spam with a side "Ketchayo", a mixture of ketchup and mayonnaise.
The chicken sliders come three to a plate and feature succulent patties of chicken breast, which are cooked perfection. Each is topped with a bread and butter pickle and coleslaw on a soft, grilled bun. The sauce on the slaw is just enough to add flavor without making it a feat to stay tidy while eating it.
A moderate serving of Maui Coconut Porter sweet onion rings are served alongside the sliders. With a crunchy, but not overly greasy breading and a hint of sea salt and chopped herbs the rings are the perfect accompaniment.
As delicious as fried and breaded treats are, life is all about eating everything in moderation. One of R Gang's salads will be more than willing to lighten things up for you without compromising flavor.
The melon and burrata salad is an interesting mesh of flavors with grilled cantaloupe, salty prosciutto and creamy burrata cheese atop a bed of spring mix tossed in a champagne vinaigrette. The combination of textures and flavors in this salad prove that "healthy" doesn't always guarantee that a dish will be boring.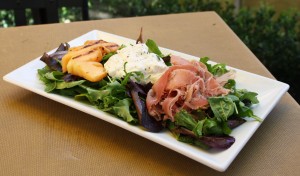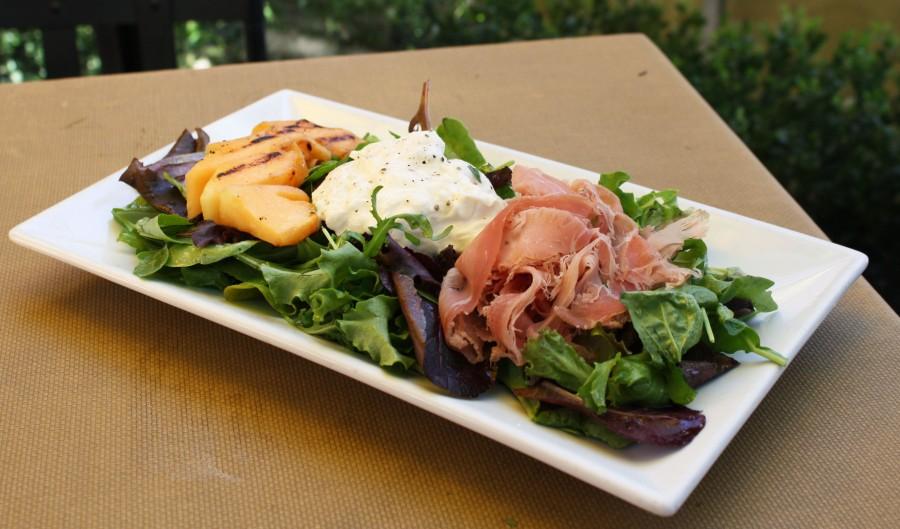 Every comfort food experience needs a bit of sugar to wrap it up properly. In this respect, R Gang Eatery not only steps up to the plate, but hits a homerun.
The cheesecake pops are a cream cheese lover's delight. This dessert is fluffy without being overly heavy and dense like most cheesecakes.
Instead of a thick crust, the "pops" are lightly dusted with graham cracker crumbs. The rich chocolate ganache that is served with this dessert is the yin to the tart raspberry-rhubarb sauce's yang.