It may have an adorable name inspired by a children's fairy tale, but don't let that convince you that Tre Porcellini can't huff and puff your socks off, located in Hillcrest at 1417 University Ave.
From the cute little pigs in the logo to the Northern Italian-style fare, this ten month old restaurant is a great spot for lunch, happy hour or a sit down dinner. Black and white photos are hung on the wall, and the décor is clean, simple and elegant.
Sitting on the patio of Tre Porcellini is reminiscent of an afternoon in an Italian café, which makes sense as the owners are from Bologna and Milano. Friendly people pass by on the sidewalk, and if you ask for a coffee you will receive a shot of espresso with a bit of cream and sugar on the side.
From 4-7 p.m. daily, and all night on Tuesdays, happy hour specials feature some of their delectable Italian tapas and discounts on their beer and house wine. Though the dinner menu is available all day, there is also a special lunch menu to select from, including a "create your own" pasta dish special.
Story continues below advertisement
Though the ambiance and daily specials are enough to get you in the door, the celestial cuisine is what will pull your heartstrings and make you fall in lust.
Instead of the typical, complimentary bread and butter at the start of the meal, Tre Porcellini serves their bread with a simple tomato sauce, spiced up with a kick of fresh garlic.
Thin slices of sweet pears and creamy gorgonzola cheese play nicely on the insalata di pere, along with candied walnuts that are earthy and flavorful instead of drowning in sugar like their counterparts at many other restaurants. Elegantly drizzled with a light and tangy lemon vinaigrette, this salad serves as the perfect introduction to a meal at Tre Porcellini.
One of the signature dishes, a luscious "mac and cheese" risotto, is a gentle infusion of Arborio rice with parmesan, aged white cheddar, Champagne and the lightest touch of truffle oil. Upon eating the risotto, the consumer drifts into a tranquil food coma, only to be awakened by another shot of espresso and the promise of dessert.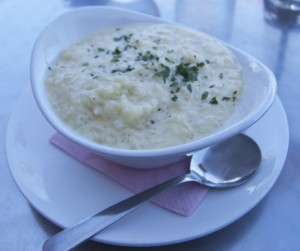 And on that note, Tre Porcellini does not disappoint in their selections for the grand finale of the meal.
The pink cannoli are the stars of the menu, fashioned after little pigs and served dusted with powdered sugar in sets of three. The lush ricotta filling is gently blended with strawberry coulis and adorned with rich chocolate chips, and though their serving size is perfect to share, do not feel obligated to do so.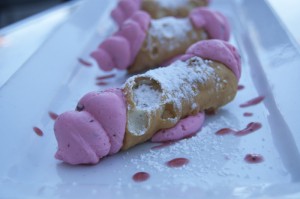 Fans of their house-made, fresh pasta can place orders to take it home and create their own signature dishes. Whenever life is too hectic to cook at home, Tre Porcellini will happily host you for dinner with friends and loved ones.