Locally Sourced Meals: Graffiti eggplant adds artistic aspect to pizza
As the peak season comes to a close, stands at the farmers markets in San Diego are full to the brim with eggplants in all varieties, colors and sizes.
Originally found as a wild crop in India, eggplants were first cultivated in China before being brought over to Europe during the Middle Ages, according to elements4health.com. Though the most common variety is the large, dark purple, pear-shaped vegetable, other varieties can be red, green, creamy white or lavender in a combination of shapes and sizes.
Eggplants – in season from August to October – have been known as having many health benefits and are a great source of fiber, potassium, magnesium, vitamins B1 and B6, according to whfoods.com. The antioxidant nasunin is another nutrient found in this vegetable that has been found to protect the lipids in brain cell membranes.
Cut eggplant should always be salted before cooking to cut out some of the bitter flavor and tenderize the flesh.
This unique pizza combines two classic, Italian food favorites into one simple idea. The graffiti eggplant can be used as part of a combination or replaced by other varieties.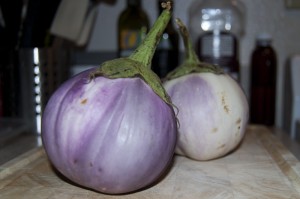 Recipe: Eggplant Parmesan Flatbread Pizza
Serves 4
4 Loaves of Multigrain Flatbread
2 Cup Graffiti Eggplant, cut into 1 inch cubes (Sage Mountain Farm)
3 Tablespoon All-Purpose Flour
1 Egg (Schaner Farms)
2 Egg Whites (Schaner Farms)
1 Cup Panko Bread Crumbs
3 Tablespoon Parmesan Cheese, finely grated (Artisan and Farmstead Cheese)
6 Tablespoon Extra Virgin Olive Oil, divided
1 Tablespoon Shallots, minced (Mr. and Mrs. Green's Farm)
1 Cup Mozzarella
1/2 Cup Ricotta Cheese (Gioia Cheese Company)
1 Cup Crimini Mushrooms, sliced (Mountain Meadow Mushrooms)
1/2 Cup Heirloom Cherry Tomatoes, quartered (JR Organics)
1 Tablespoon Basil
2 Ounces Prosciutto, thinly sliced
1 Teaspoon Yakima Applewood Smoked Sea Salt, divided (Salt Farm)
1/2 Teaspoon Fresh Ground Black Pepper, divided
Preheat oven to 400°F. Sprinkle eggplant with 1/2 teaspoon of salt, let sit for two minutes then toss in flour. In a small bowl, mix bread crumbs, parmesan cheese, 1/4 teaspoon of black pepper, 1/2 a teaspoon of salt. Beat egg and egg whites together, and then dip eggplant in egg mixture before coating in breadcrumb mixture.
Cover a baking sheet with four tablespoons of olive oil, put breaded eggplant on sheet and spread into a single layer. Bake for 25-35 minutes, flipping until tender and crisped on all sides.
Mix together two tablespoons of olive oil with minced shallots and brush flatbread loaves with olive oil mixture. Top with mozzarella, ricotta cheese, mushrooms and baked eggplant. Bake for 15 minutes, then garnish with fresh tomatoes, prosciutto and basil. Sprinkle with salt and pepper before serving.