Breakfast is often referred to as the most important meal of the day, but it is all too common to inhale a bowl of high fructose corn syrup covered cereal before running out the door. Instead of going this route, try a protein-packed breakfast burrito as a jump-start to your day.
High in both fiber and protein, black eyed peas make a great substitute for meat or lard-rich refried beans and Suzie's Farm is currently selling fresh batches at their farmers market stand.
Unlike their dried form, fresh black eyed peas don't need to be soaked or boiled for hours, so it is a quicker version.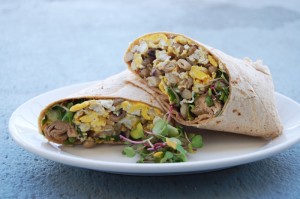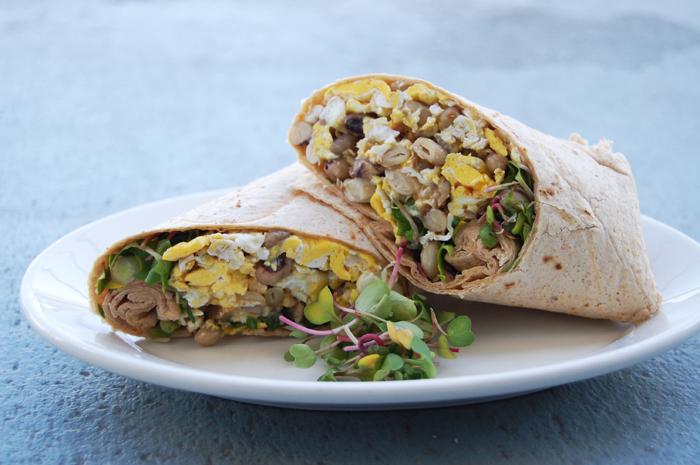 Story continues below advertisement
Recipe: Black-eyed Pea Burrito
Serves 2
1 cup black eyed peas (Suzie's Farm)
1 teaspoon extra virgin olive oil
4 eggs (Schaner Farms)
1 cup China rose radish microgreen (Suzie's Farm)
2 green onions (Valdivia Farms)
1/2 cup veggie jack cheese (Spring Hill Cheese Company)
2 whole wheat tortillas
Using a small pot, cover black-eyed peas with an inch of water and simmer for about 10 minutes until soft. Drain water and set aside.
Crack eggs into a bowl and scramble with a fork, and then heat olive oil in a small sauté pan to cook the eggs. When the eggs are almost done, add black-eyed peas and veggie jack cheese. Cook until melted.
Warm the tortillas over the open flame of a gas stove or in the oven. Split the egg mixture, green onions and microgreens between the two tortillas, fold in the ends and roll to complete.                                                                     –Lauren J. Mapp