Badu releases new mixtape inspired by rapper Drake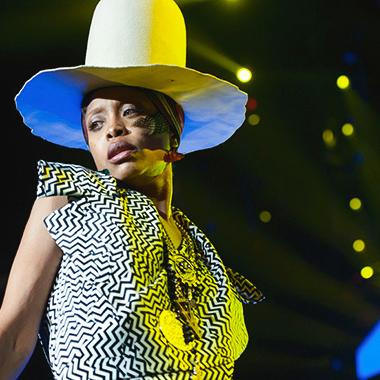 Miss Erykah Badu, the queen of neo-soul herself has finally blessed fans with some of her newest creations. Her mixtape "But You Cain't Use My Phone" was released on Nov. 27, marking five years since Erykah's last music release, "New Amerykah Part Two:Return of the Ankh."
The synthetic beats of her new work differ from her typically slow and smooth rhythm and Erykah seems to have a more relaxed choice of lyrics in comparison to her usual but Badu stays true to her soulful vocals.
The work's title comes from Erykah's infamous song "Tyrone," featured in her 1997 album "Live." The album art depicts a twelve-armed Ms. Erica holding a phone in each hand.   Throughout the whole mixtape, Erykah makes telephone references and conveys the importance of fully engaged social interaction. In "Phone Down", Erykah sings "I can make you put your phone down / I see your friend calling but forget 'em." Erykah says this song laid the foundation for the whole mixtape.
The mixtape features 11 tracks, including a collaboration with Badu's former lover and son's father, Andre 3000. The outcome of the reunion is the closing track of the tape, "Hello."
There is one more feature on the album, which everyone assumed was Drake with a nasal-y cold. The actual artist on Erykah's "U Used to Call Me"and "What's Yo Phone Number" is Aubrey Davis, a Drake impersonator. Erykah kept this a secret until recently by only tweeting that "Drake is not on the mix tape" on Nov. 27.
Erykah Badu appeared on the show 'The Real' on Nov. 25 to discuss her new mixtape following its release. The female artists discusses the beginning of the mixtape, which was her sultry cover of rap artist Drake's "Hotline Bling". "I did it for someone's birthday, just as a gift. It came out so well," she says. She mentions how she initially contacted Drake, a personal and endearing gesture. "I got in touch with Drake and asked him if he could visit my son's school to talk to the class… and he did it! … The children were really inspired, that's how we first became friends." Since then, Drake has referred to Erykah Badu in his songs and the Canadian rapper has clearly been an inspiration to Badu.
During her interview, she expanded on her focus on technology and how it inspired the collection of works. "Social media is like social evolution," Badu said. on The Real. In this mixtape, Badu seems to really be pushing the conventional reliance on technology and gearing toward the importance of human interaction and connection. The album art for the mixtape features a multi-armed Erykah, grappling a telephone in each hand with the speech bubble "it's always callin' me." Throughout her mixtape, Badu makes references to popular culture and social media, stressing our daily reliance on it.  This clearly portrays her understanding of it, which is not to be confused with her disapproval of it.
This is the first mixtape Badu has ever released, which did surprisingly well in sales. As expected, fans were all over the new tunes, which Erykah responded to with a nation-wide tour.

"It took me about one and a half day to do each song… When you say mixtape, it's a totally different way of marketing something." Erykah compares the commitment of labeling a collection of works as an album to marriage, versus the comfort of a mixtape, which she compared to a girlfriend.
"But You Cain't Use My Phone" is available for purchase on iTunes and for complimentary eargasms on Spotify.