Gwen Stefani shows us 'What the Truth Feels Like'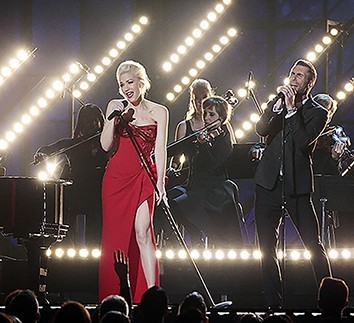 In the world of music, it's hard for an artist to stay relevant year after year. There are always new artists coming in and out and others that have been there long before. Another big factor is age. All the attention seems to go to the next 'hot, young' thing and even if you are talented, if you're old then you start to be forgotten.
Gwen Stefani on the other hand, is still making a killing while being in her mid 40s. Starting out in the 90s with her original rock band No Doubt, and then moving on to a solo career in pop music, Stefani enjoyed immense success.
It had been almost ten years between album releases since her 2006 album "The Sweet Escape." Within the ten years, No Doubt was reunited for an album as well Gwen Stefani joining the show "The Voice" as a judge.
Unfortunately, also in the time frame was her divorce to Bush singer Gavin Rossdale. That wasn't able to keep Stefani down since recently she had started dating "Voice" co-star Blake Shelton.
With that, Stefani brings us her third solo release titled "This Is What The Truth Feels Like" which focuses on her old relationship with Rossdale, but also on her new romance with Shelton.
The album gets its title from the song "Truth" located at the center of the album. In it, she focuses on both Rossdale and Shelton explaining that Shelton was more truthful, due to her ex-husband being with another woman. In the chorus she sings "This is more of what I had in mind, yeah this is what the truth feels like and I'm feeling it."
Stefani decides to open the album with the surprisingly happy song titled "Misery." In the song, Stefani talks about being miserable over the end of her marriage and somehow finding new love after thinking she could never again.
The overall feel of the album is that of a more positive approach. Coming into the album you would think that it was solely about the breakup when it has more songs directed to the new man in her life.
The confusion came with the lead single "Used To Love You" which takes a more mature route than one would think. Rather than slander an ex like most people would do, Stefani takes a moment to think and proclaims "I don't know why I cry but I think it's 'cause I remember for the first time since I hated you that I used to love you."
She followed that up with the fantastic single "Make Me Like You" which could very well be one of the best songs of her career. This song, as opposed to "Used" is about Shelton and leans in the direction of her new romance.
Both songs are perfect introductions to a superb album which could also be Stefani's best. Most fans would argue in favor her 2004 release "Love.Angel.Music.Baby." but in "Truth" she tries a lot of new things that definitely work out.
One of the standout tracks on the album would be the fun and upbeat "Where Would I Be?" Where she shouts out to her new man basically saving her from being sad. The song has a sing-a-long chorus throwing back to the 60s with a bridge that guarantees the listener a good time.
Other notable songs are the wonderful end to the album "Rare," the ballady "Me Without You" where Stefani realizes the freedom she has now that her marriage is over and "Asking 4 It" which features guest rapper Fetty Wap and is sure to be a hit by summer's end.
Stefani really made something special and took her time on this record and that is why it is such a great and important listen. "This Is What The Truth Feels Like" is available on iTunes, Spotify and in store.