Tyler, The Creator blossoms back onto the charts with "Flower Boy"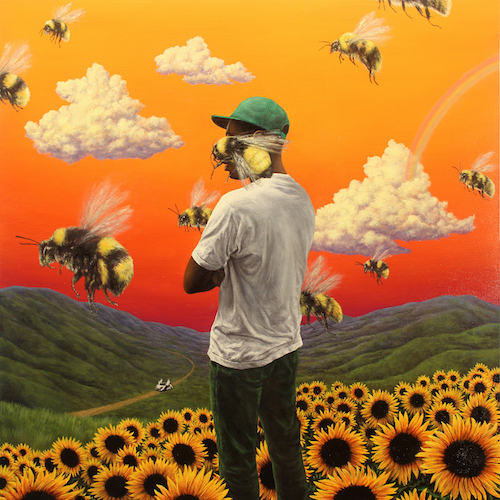 Hang on for a minute...we're trying to find some more stories you might like.
This summer, Tyler, The Creator dropped what he calls his best album yet, "Flower Boy". The album, originally titled "Scum F*ck Flower Boy", is Tyler's fourth major release, and is a testament to his talent. It seems like after every album he releases, he somehow finds a way to mature as an individual, and as an artist.
For the last eight years, we have known Tyler as the brash, loud, and annoying teenager, with a loyal cult following that would do anything he said, and buy anything with an Odd Future logo on it. However, with this recent release, we can see Tyler has really grown, and so has his music.
Tyler, as seen in the "Cherry Bomb" documentary, prides himself on being able to play a majority of the instruments featured on his albums, yet, this album is much more sample heavy than his past few releases. With that being said, Tyler effortlessly finds a way to rework or remix the samples and add his own creative touch to them to create a masterpiece of an instrumental. "Flower Boy" also features artists such as Jaden Smith, Kali Uchis, Frank Ocean, A$AP Rocky, Estelle, and even a guest verse from Lil Wayne, and they all add a very unique sound to their respective songs, and to the album in whole. "Flower Boy" is an extremely easier listen than his past albums. This album is something you can listen to after a long, stressful day or during a long drive, opposed to his earlier albums/mixtapes which made you want to rage and punch someone in a mosh pit.
Two songs from the album that fit the overall theme of love, self doubt, and depression, over a soothing instrumental, were "See You Again" and "Boredom". "See You Again", which features singer Kali Uchis, is a love song in which Tyler sings and raps about the perfect lover that only exists in his imagination, but yet he is tired of chasing and waiting after her. Tyler and Kali have been featured in multiple songs together, and all of their tracks seem to have the same exact feel to them. They have amazing chemistry together and you can hear that in this song, in "Find Your Wings", and in the second half of "F*cking Young/Perfect", both from his last album "Cherry Bomb". Up next was the track, "Boredom". On this track, Tyler illustrates the dangers of the boredom and the loneliness he often feels due to his newfound fame. Rex Orange County is singing the hook on this song, with fellow artists Anna of The North and Corinne Bailey Rae. Their vocal harmony is extremely melodic and pleasant to the ear, and paired with Tyler's amazing production skills, it makes a great song to really vibe out to.
Another two songs worth an honorable mention were "Potholes" and "Dropping Seeds". Although these songs don't exactly fit the overall theme of the album, they both deserve equal praise. On the track, "Potholes", Tyler samples the classic Roy Ayers record "Ooh", and reworks it for our generation of listeners. With Tyler taking a majority of the rhymes, he and the eccentric spawn of Will Smith, divert from the theme of love and self doubt, and spit about the distractions, roadblocks, and potholes (wink, wink) you may see on the road to success. The song "Dropping Seeds" should've been way longer in my opinion. This snippet features rap legend, and former "Best Rapper Alive", Lil Wayne. Tyler always finds a way to dig up the early 2000s Lil Wayne we knew and loved, and he is in full form on the track. Just like in "Smuckers", Wayne goes extremely hard and leaves you with a feeling of nostalgia and saying, "damn, what happened to this Wayne?" Tyler doesn't have a verse on the track, which is highly disappointing because I feel like he and Wayne could have demolished that beat 100%, but I digress..
Overall, "Flower Boy" is a lot different from Tyler's earlier works. He came with a new vibe to his music, and it is something to truly appreciate. Throughout "Flower Boy" we see that Tyler is no longer the pissed off teenager with the sometimes obscure and problematic rhymes. He has blossomed into a whole new artist, and  this album completes the metamorphosis of Tyler, The Creator. His production and lyrical prowess have grown immensely over the years, and we are all more than excited to hear what he has next in store for us. With that being said, "Flower Boy" definitely is one of the stand out albums of a more than lackluster year for music.