The engaging exhibition "Glimmers of Grace," housed in the Fine Arts Building, is open Monday through Thursday from noon-5 p.m.. and runs until Oct. 26. It brings together an artist's legacy with a profound examination of spirituality and the feminine experience. This artistic journey spans five decades of creative expression, showing Grace Gray-Adams' incredible career. 
Gray-Adams, born in 1948, began as an art student at San Diego Mesa College and continues to evolve as a multimedia artist. She experimented with several mediums before settling on multimedia tableau-style works with interactive or participatory aspects. Her path has been about breaking societal norms and advocating for women's voices as much as it has been about creating art. 
Gray-Adams enrolled in San Diego Mesa College on its first day in February 1964. In 1967, she transferred to San Diego State University (SDSU), where she began to focus on developing ideas alongside physical art pieces. During her time at SDSU, she was instrumental in founding the country's first Women's Studies Program. In many respects, her art reflects her commitment to challenging gendered conventions in patriarchal institutions such as marriage, parenting, and religion.
"Proof: The Forensic Evidence of My Existence," one of her insightful pieces, is a series of hand-sized lint sculptures. Gray-Adams produced these exquisite mini-soft shapes while caring for her mother-in-law. Viewers can interact with the sculptures under microscopes as they are displayed like specimens in a laboratory, changing the experience into a meditation on perception and consciousness. 
Story continues below advertisement
Gray-Adams' artworks push beyond typical artistic bounds, combining video-based pieces that provide a glimpse into women's lives. "The Wedding Sheet" transports viewers into an intimate bedroom setting where film snippets reveal secret stories beneath the sheets, providing a candid depiction of personal wedding evenings. 
However, Gray-Adams' work does not always focus on the positive aspects of life. "Entrails," a delicate sculpture, is dedicated to the little girls of the Holy Spirit Parish who were abused by a priest. Black chiffon is elaborately interwoven into a rhizomatic structure, representing the shattered childhoods and psychic entrails that these victims were forced to expose while preparing for their depositions.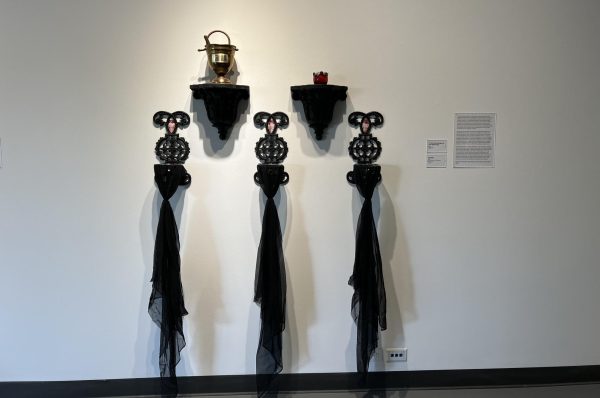 "Glimmers of Grace" is an all-encompassing look at life and womanhood. Gray-Adams' art is an unvarnished representation of her life, anchored in the mundanity of household chores and elevated into profound expressions of emotional meaning. As Gray-Adams continues to refine her artistic legacy, "Glimmers of Grace" provides a rare opportunity for the San Diego audience to become closely acquainted with her complex and thought-provoking works. Her art captures the very core of the human experience through both light and dark themes, looking for glimmers of grace amid life's significant moments.