Each semester, the Mesa Dance Program features a collection of dances with a range of styles including jazz, hip-hop, tap, ballet, modern and Latin dance. This fall's "Mesa Moves: Dance Moments" performance at the Apolliad Theatre was no exception. In front of a crowd that was near full capacity, the company of dancers swung, tapped, and moved to the entertaining delight of the audience.
The concert featured 13 originally choreographed dance pieces. "Mesa Moves: Dance Moments" is a culmination of work offered to majors and non-majors alike. At the beginning of each semester, there is an open call audition for anyone who is interested. Dancers are then matched with styles based on their personal abilities in order to optimize their strengths, or in some instances pushed in areas where they can grow.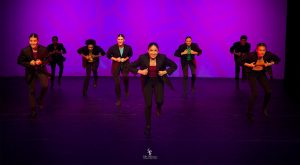 The opening number, "Shout and Feel It," was aptly placed. It boasted fun and free movements that immediately drew the audience in. Choreographed by professor Donna Flournoy, the number featured music by William "Count" Basie who is best known for his big band, swingin' jazz style. The dancers, clad in black jackets and multi-colored shirts, were all smiles as they introduced the audience to this year's concert. 
Student dancer Ramell Van said that, "anyone who loves to dance and likes good vibes is welcome. We have great energy here." There was certainly no lack of energy in any of the dance pieces. In the performance "Hip Hop: 50 Years Young" the dancers displayed tremendous passion and charisma. When asked about the future of student dancers and benefits of joining the dance program at Mesa College, Blythe Barton, a full-time faculty member and professional choreographer responded that, "because of our faculty, we have an incredibly high-caliber technical training [program]. We are uniquely poised to bring in students who have a lot of experience and are looking to move onward and to be pushed, but also to act as a conduit for all students into the arts."
Story continues below advertisement
Collaboration is key to any successful performance. The use of dramatic lighting really helped set the mood in pieces such as "Empower Women" and "Elements," two contrasting pieces during the second half of the concert. "Empower Women" featured more traditional styles of ballet and modern dance, with incredible technique that only highly skilled dancers could pull off. "Elements," a hip-hop and break dance performance, was coupled with music by Rob Base & DJ E-Z Rock. It had highly dynamic choreographed movements that the dancers seemingly executed with ease.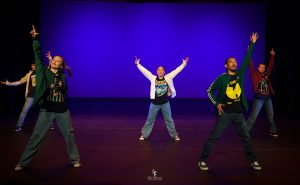 The Mesa Dance Program offers an array of courses geared toward helping dancers gain more experience, dexterity, and strength. The journey of an individual dancer varies, and Barton adds that, "Mesa Dance aims to provide diverse styles for training our dancers. Whether it's a dance major looking to hone their craft, or just a curious arts lover filling a humanities requirement, Mesa Dance has professionals ready to assist and train all levels of dancers. We are trained to provide an opportunity for all students." The power and agility the dancers showed throughout the concert was evident. It was truly a testament to the work and passion that the faculty at Mesa College strive to pass on to students. 

"Mesa Dance aims to provide diverse styles for training our dancers."  

— Blythe Barton, Dance Faculty Professor

The closing number culminated with the entire company joining together on stage. The sheer number of dancers who participated was amazing to see. With so many different people, body types, and ages, "Mesa Moves: Dance Moments" truly embodied how positive energy can be shared through dance and bring people of all backgrounds together. The passion and happiness the company projected, energized the audience and reminded us how wonderful it is to see live performances again in person.