The San Diego community was treated to a delicious presentation of talented student chefs at the recent Taste of Mesa food exposition, where guests witnessed the wunderkind-like talent of the Mesa culinary students.
The evening was a joint effort between the Mesa Culinary Arts and Hospitality programs, with each running the food and customer service respectively. While the culinary program 
did the work of preparing the food, the hospitality program worked on ushering guests into the event, taking tickets, and providing a great experience for everyone. The chefs who contributed their talents were a combination of current Mesa students and alumni, who are graduates of the Culinary Arts program.
Upon entry, each guest was offered their choice of mocktails crafted by the students. They included Moscow mule, old fashioned, and sangria facsimiles. Each student chef had their own table, featuring samples and explanations of their signature dish. Guests were able to explore the showcase at their own pace, as it was set up similarly to a walk-through art gallery experience. Crowds migrated from table to table, tasting each dish and discussing the creative process behind them with the chefs. A stunning ice sculpture carved by chef Todd Bull and students was featured as a centerpiece for the event.
Story continues below advertisement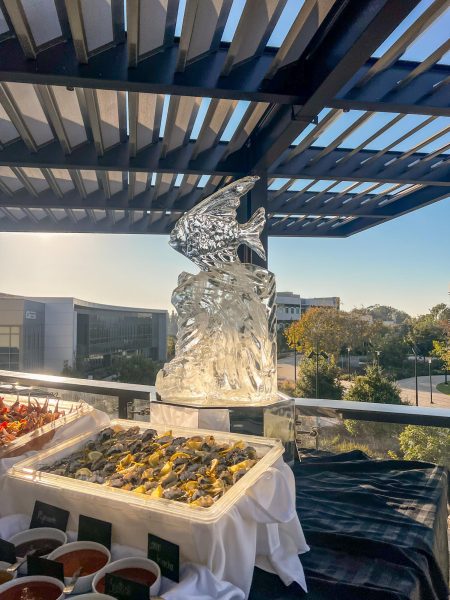 All of the dishes had their own essence of unique personality from each chef:
Chef Taira MacNeill crafted a twist on a French onion soup, containing it within an actual onion and supplemented with prosciutto. Chef Nick Greco featured a chicken confit in mushroom conserva, peppered with delicious fried gnocchi. Dessert was certainly not forgotten, as chef Jusimi Otero prepared a phenomenal banana foster bread pudding with mascarpone icing and Kentucky Bourbon caramel sauce. The event also featured homemade gelato in the unconventional flavors of horchata and roasted peach.
Guests were also treated to a silent auction with generous prizes; a wine tasting experience, dinner at several local restaurants, and a gelato-making class with certified gelato master Tonya Whitfield. All proceeds from the auction, as well as entry fees to the event itself, went straight back into the culinary program to fund all the valuable learning experience that takes place each day in class.
The night concluded with guests being the judges for a large-scale cooking contest. Numerous chefs prepared their dishes in front of the guests, who went around the kitchen and sampled each dish. A cake decorating contest was also taking place simultaneously, as guests judged each cake for its unique style and artistry.
The night was packed full of community and faculty members who were curious to see the efforts of Mesa's student chefs. Mesa President Ashanti Hands also made an appearance, meeting every event contributor and learning about the behind-the-scenes motions in order to make the event the success that it turned out to be. A truly valuable experience was at hand for everyone in attendance, with each guest being able to feed their soul just as well as their stomach.