Jay-Z shocks fans with a different thirteenth album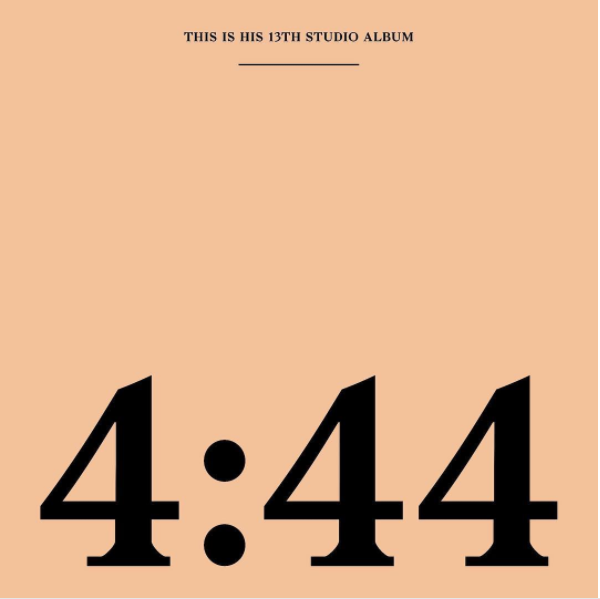 "4:44" the thirteenth album by American rapper, businessman and artist Jay-Z, who broke the mold of his past releases with a personal and impassioned album. Instead of chasing the new rap fad, he made an album where he could release his emotions about racism, relationships, and things that caused him grief.
Produced by Jay-Z and No I.D, a rap and hip-hop producer who's worked with the likes of Kanye West, Common, and Nas. According to an interview by Rolling Stone, No I.D. declined working on the album with Jay-Z because of a lack of "inspiration." He eventually became inspired and came to fruition a funky, jazzy and earthy sound of "4:44"
Jay-Z dug deep into his life's follies to write emotional driven lyrics, and although he had many ghostwriters Jay-Z was involved lyrically in every track.. Jay-z's repertoire is usually tracks that his fans can party and head bang to; the newest beat format everyone hears from other rappers of his caliber. Jay-Z and No I.D. did the opposite and produced an album that has something new to offer after every listen.
The beats and sampling used in "4:44" were mellow, funky and groovy, building the foundation of an emotionally driven album. Jay-Z and No I.D. took the listener into the life of Jay-Z; through his unfaithfulness to his wife, Beyonce, letting us know how conflicted he was about cheating while also realizing what a grave mistake he has done, wondering if Beyonce would ever forgive him.
Jay-Z delved into social injustices in "The Story of O.J." Begins as commentary of Orenthal James "O.J" Simpson by responding to O.J. saying "I'm not black, I'm O.J." Jay-Z responded by saying "Ok" in a condescending way, making his fans believe he was laughing at O.J. He then went on to tell his listeners that it doesn't matter if you're a rich, poor, or a worker, you will always be seen as a black man.
In the same song, Jay-Z told the importance of legacy and keeping his family in "financial freedom," which he did by telling his fans to spend their money on items that will enrich life and to avoid insignificant things like "…throwin' away money at a strip club?"
Although "4:44" is not as successful as his past releases, the content of his lyricism and the instrumentation is something he has never done before, but accomplished a groovy, pensive release that seemed to be an album for him and not as much for his fans. It seems like this was an album for him because of the emotions and events in his life that he kept inside until this album. "4:44" should be given a chance by any rap aficionado, not just because it's Jay-Z and No I.D., but because they made one of the better rap albums of the year.