It's all about the Jeffersons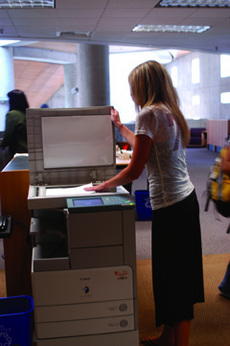 Hang on for a minute...we're trying to find some more stories you might like.
This isn't about pennies, it's much bigger than that-it's about nickels.
New this fall in the Learning Resource Center, students can save nickels every time they push the start button on one of eight new photocopy machines. One reason for the discount is a new copy card system that eliminates coins.
The new copy machines, the price reduction per copy–from 15 cents to 10 cents–and the updated copy card system are only part of the library's $350,000 summer upgrade.
With 13 new printing stations and an updated network, library patrons can now do computer printing almost anywhere in the building. There are also 140 new computers and a state-of-the-art microfiche scanner.
"That is a very cool scanner," said LRC Dean William P. Craft.
Craft has been hanging out in libraries since he was five and walked with a hop in his step as he seemed excited about the library's improvements.
"I'm not going to have junk in here," he said.
For five years, ever since he became dean, Craft has agreed with student complaints about the photocopy price.
"The price was absurd," Craft said. "There's nowhere in San Diego County that you pay 15 cents a page."
Craft said that students have dropped suggestion for years; even the student government questioned him. One of the most common complaints was 15-cent photocopies.
Students didn't know the library was locked into a contract with Xerox, Craft said. The library could do nothing but wait. Finally, when the contract ended, Mesa put out bids across the country for a new photocopy system.
"We told them, bottom line, it had to be 10 cents per copy," he said.
One reason the photocopies use to cost a nickel more was partly due to the nickel itself.
It's the actual collecting of coins, Craft said. No company was willing to collect coins for printing or copying at anything close to a reasonable price.
"Picking up coins is horrible," he said.
The machines that collect the change cost $5,000 each, and the coins need to be counted twice, once at the library and once at the finance office. It ends up taking two staff members, Craft said, which is two full-time salaries, with benefits, just to get the money collected.
"I mean it's amazing," he said. "It used to take five or six hours to deposit."
Now photocopy machines and printout stations operate only by copy card and when students put money on the card, they should leave their change at home. The card system only accepts dollar bills-$1s, $5s, $10s and $20s-no coins.
And don't forget to swipe.
One mistake students are making, according to Craft, is putting their money into the machine, taking the dispensed card, and walking off. If the student doesn't swipe the card, he or she just bought a useless piece of plastic. Craft said if that happens, don't worry.
"If they get ripped off, they're going to get the credit back," he said.
John Dobran, Mesa biology major, thought the new machines were easier.
"If you can drive a car, you should be able to use the copy machine," Dobran said.
Mesa student Jessica Forrest-Baldini didn't seem to have any qualms about the new card system. She looked forward to the new machines as a change for the better.
"The old ones, the room would be full and there would be one machine working, maybe two if you were lucky," she said.
While most other schools charge students for the actual copy card, Mesa doesn't. The library asks students to recycle their copy cards because while they are free for the students, they are not for the library.
"Please don't throw out the card, because the card costs 50 cents," Craft said.
Craft said the library staff is still deciding what to do with the old copy room, which is now empty and serving as an interim conference room. He called the room a "pretty prime location." It could be a permanent conference room, or a testing center, or even a coffee shop, he said, which is a possibility.
"It's sort of new, but a lot of libraries are doing that now, libraries are changing," he said. "It's not your grandmother's library anymore."