Religious fundamentalists preach Gospel to large crowd at Mesa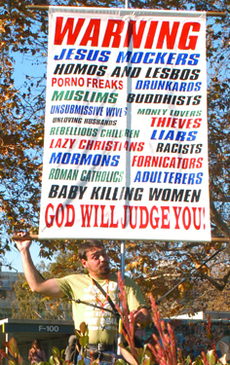 Hang on for a minute...we're trying to find some more stories you might like.
Police officers formed a perimeter around Jeremy Sonnier and his two fellow preachers as they debated religion with more than 100 students on the Mesa quad in front of the cafeteria, Dec. 14.
"To preach the gospel, warn the people, and provoke their thinking," Sonnier said after being asked his purpose at Mesa College.
The students who watched seemed to not like what the public speakers had to say, yelling questions and comments. At one point, the students chanted: "You suck. You suck."
One student in the surrounding throng yelled, "You failed. You've converted absolutely no one, and everyone hates you."
Sonnier and another speaker held signs, condemning several groups including Jews, Muslims, homosexuals and Mormons. The debate lasted more than three hours until student participation dwindled and Adela Jacobson, Dean of Student Affairs, asked the religious speakers to lower their voices due to students in surrounding classes taking final exams.
Sonnier is from Lafayette, La., and claims to have visited 39 states and more than 75 campuses
preaching the Gospel.