Basketball team assists wildfire evacuees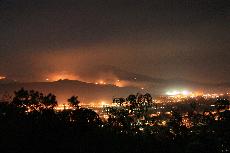 Members of the Mesa men's basketball team volunteered at Qualcomm Stadium on the morning of Oct. 22, the day after the wildfires that ravaged Southern California first broke out.
"We just wanted to help," said Mackenzie Johnson, a freshman guard from Portland, Ore.
The players aided evacuees for several hours by donating blood and bringing out food and water.
Nick Root, a freshman guard from Sacramento, said that the evacuation site was "well-run" and that volunteers "kept piling in."
"It was pretty cool to see," said Root. "Every minute a car would bring food and water. This one guy brought a bunch of pillows."
Root noted that the evacuees were very "anxious" but were "able to stay informed" because the news was turned on TVs throughout the stadium. He suggested that because the evacuees were able to hear updated lists of houses that were destroyed by the fires, some of the suspense was broken.
But even the TVs did not deter the emotional toil brought on for those involved, including the volunteers.
Root remembered that patients from a hospital and a convalescent home were among the evacuees at Qualcomm Stadium. He recalled that "one of the toughest things to see" was patients attached to various medical support devices.
"They are already in a tough situation, but to have to deal with that was hard," said Root. "They are not as able to handle change."
One of the players from the basketball team was forced to experience just how hard evacuation could be. Erik Smith, a center and forward from Camarillo, Calif., was evacuated to Chula Vista, and then evacuated again after the fires continued to spread. One of his teammates took him in until the fires were contained.
"Last Wednesday (Oct. 31) we went back and just cleaned up [all day]," said Smith.
Even after the wildfires were contained, the Olympians have continued to help evacuees adjust. Chris Reed, a guard and forward from San Diego, helped out at his church last week.
Through volunteering, even members of the team whose homes were safe were able to sense what the evacuees felt.
"It's a really tough thing when you don't know if everything you've worked for is going to burn down," said Root. "And I think that is how all the other volunteers felt too."