Students abuse disabled placards to score convenient parking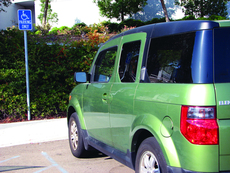 Hang on for a minute...we're trying to find some more stories you might like.
This semester the parking situation on campus seems worse than ever, and as a result students are abusing the system in a shocking way.
Since the beginning of the fall 2008 semester, campus police have ticketed more than 30 students who were illegally using disabled persons placards to park in designated disabled spaces. Each citation included a $340 fine. In addition to the fine, students run the risk of establishing a criminal record. In the state of California it considered a crime to park in a parking spot reserved for disabled persons. However, Lt. Jack Doherty said that the hefty fine should be enough to stop the behavior.
"It's not our desire to make criminal cases of people not using their heads," said Doherty.
Campus police have been following people to or from their cars and asking for the registration that goes with the placard and then comparing it to their driver's license. Most of the students are acquiring the placards from relatives, such as grandparents.
Doherty said that during the first two weeks of school parking tends to be the worst. Students generally have more business to attend to and stay on campus longer.
Part of the problem is the loss of Parking Lot No. 3 and part of Parking Lot No. 4 to make room for construction of the new multi-level structure being built on the east side of campus off of Mesa College Drive. In addition to the loss of parking spots, enrollment has increased this semester compared to previous semesters. There almost 1,000 more students enrolled this fall than in spring 2008 or fall 2007.
A typical college pattern is for enrollment to decrease from opening day to the first drop deadline, but for Mesa this is not the case. This semester enrollment has actually increased by about 700 students according to the Office of Admissions and Records as of Sept. 10.
This insufficient amount of parking spaces has turned Mesa's parking lots into mini-jungles. Students circle the parking lots, swooping at any opportunity for a spot. Others stalk their prey all the way to their cars.
Mesa is aware of the problem, and is providing a free shuttle service that runs from Kearny Mesa High School to Mesa from 7:30 a.m. to 4:20 p.m., that provides an extra 100 parking spaces. There are also designated carpool spaces that can be used by students that acquire a carpool permit from campus police.
But even with these additional spaces available, it looks as though students will have to suffer through until the opening of the new parking structure in spring 2009.