Charged with murder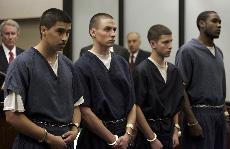 Hang on for a minute...we're trying to find some more stories you might like.
Four men were arrested Dec. 2 for the Oct. 4 stabbing death of Mesa College student Luis Santos. They face a maximum sentence of life in prison if convicted.
Rafael Garcia, Ryan Jett, Esteban Nunez and Leshanor Thomas, all 19, were taken into police custody in Sacramento County Dec. 2, but will be transported to San Diego to face charges. The charges against all four men include one count of murder and three counts of assault with a deadly weapon, as well as one count of misdemeanor vandalism.
Three friends with Santos that night were injured in the attack and a trailer near the where the altercation took place was vandalized. The injuries included stab wounds in back, chest and stomach of two of the victims and a fractured orbital wall on another.
Investigators followed leads and surveillance video from the Peterson Gymnasium on 55th Street, where the altercation took place. The suspects' Sacramento houses were also searched the week after Santos' death.
No weapons were found, but according to a witness in Sacramento, the defendants disposed of their knives in the Sacramento River on Oct. 4, as well as burned the clothes they had been wearing earlier that day, as stated in the declaration in support of arrest warrant for this case.
Esteban Nunez is the son of former State Assembly Speaker Fabian Nunez, who directed calls to the law offices of Bradley Patton, who did not return repeated phone calls for a comment. On Dec. 3, Fabian Nunez released a statement to the press.
"This is a very difficult and painful experience for every family involved. Maria and I love our children very much," Nunez said. "We are confident our son Esteban will be cleared of the charges he is facing."
Esteban Nunez was also clearly confident he would not be charged either. According to a witness statement in the arrest warrant, Nunez said that he would take the rap and hopefully his dad would take care of it and "get them off on self- defense."
There has been much speculation that Esteban Nunez was in a gang, based on both pictures posted on several networking sites on the Internet, which have since been taken down or set to a private mode, as well as several statements made by the accused earlier that evening according to witness statements.
Investigator collected items marked with "THC," later identified as "The Hazard Crew," and biohazard symbols, from Garcia's house. All four men have tattoos of the symbol, and are part of a close group of friends who identify themselves by that name and apparently have a hand sign.
However, Sacramento- area law enforcement has no prior knowledge of "THC," nor do they have any evidence of "documented predicated acts associated with criminal gangs."
Investigators are looking into these allegations, as it would enhance the charges and increase the penalties. As of press time, the gang connection were still "hypothetical and could not affect the charges until after the arraignment," according to the San Diego District Attorney's office.
All four pled not guilty when arraigned at the San Diego County courthouse on Dec 4, and denied all allegations against them, including being involved in gang activity.
At the arraignment, no bail was given for Jett, who has two prior felonies and is looking at life in prision without the possibility of parole for at least 25 years under California's "Three Strikes Law." Bail for Garcia, Nunez, and Thomas was sett at $2 million. As of press time, none of the three had posted bail. A tentative date for the preliminary hearing has been set for March 18, but that could change after a conference between the counsels on Jan. 27.