Blood drive unifies Muslims and veterans under Project Unity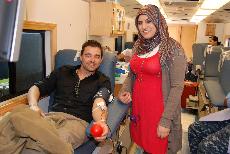 The Muslim Student Association and the Student Veterans Union combined resources in what has come to be called Project Unity to host a blood drive at Mesa College on Feb. 16.
"The media tells us that we're polar opposites and maybe even, perhaps, enemies. But we're not," Vice President of the Student Veterans Union and Psychology major, Richard Gilbert, said in a Project Unity YouTube video.
The 66 bags of blood were sent to the Naval Medical Center San Diego based near Balboa Park. Up to 198 patients may benefit from the collection.
"Working together has been incredible! I'm happy with how the event turned out and all the positive feedback we've been getting. I think we'll try to make this an annual event. But the friendships I've made with the MSA students will be year round," President of the Student Veterans Union, Edward Higuera, said.
According to Gilbert, 26, when he approached the MSA information booth last semester he experienced friction. He added that the veteran and Muslim communities simply do not know how to interact with each other.
"Once we heard how he felt, we knew something had to be done," said Huda Doski, Vice President of the Muslim Student Association.
Doski, Gilbert, Higuera and President of the Muslim Student Association, Noorsaba Bahramzi, decided that the uneasy, and often imagined, barriers between the two groups had to be dealt with – sooner rather than later.
"I mean there are tons of Muslims and veterans walking around campus and we can't be just OK with walking pass each other and feeling that friction," said Bahramzi, 17, majoring in Bio-Chemistry. "We're all human beings; we need to be able to feel OK, with having either member of the group around us."
To get the know the Muslim community better Gilbert, who served as a Marine infantryman in two tours to Iraq, offered the idea that the SVU and MSU should collaborate in some way to Higuera, who was in the U.S Navy and has been in the Persian Gulf three times. Higuera came up with the idea to host a blood drive.
"We were all excited and eager to work on the project as well as getting to know each other through the process," Doski,18, majoring in Political Science, said.
Doski said that Project Unity's goal is to dispel misconceptions and tensions between and about the Muslims and veterans who attend Mesa College.
According to Higuera, Project Unity battled rain to host their inspiring blood drive. The coalition also drew support from the UCSD SVU and Courage to Call, a program designed to help veterans deal with re-assimilation into society.
Project Unity, funded by the SVU and MSA expense accounts, is more a fellowship than a group Higuera explained. He added that upcoming events are yet to be determined.