Trump administration rescinds DACA, hundreds rally to defend program
DACA recipients and supporters defend program that gave temporary legal status to 800,000 children and young adults
On September 5, Attorney General Jeff Sessions announced the Trump administration's plan to end the Deferred Action Childhood Arrivals program (DACA), an immigration policy founded by the Obama administration in 2012.
Prior to the Trump administration's announcement, those applying for DACA all had one thing in common: they were undocumented individuals living in the U.S.
After it was announced, defenders and recipients of DACA all over the country organized rallies in support of DACA. San Diego held it's own rally, strategically, in front of the San Diego County Administration Building.
Days before the Trump administration's announcement, an event page on Facebook under the name "Defend DACA Rally" started making it's way around Facebook feeds. Put together by Alliance San Diego, Ready Now San Diego, and San Diego Immigration Rights Consortium, organizations centered around immigration rights, civil rights, and human rights, the event had a simple description: to come together in support of DACA and it's recipients, known as Dreamers.
Outside of the County Administration Building, hundreds gathered to listen to stories of Dreamers, watch performances, and listen to immigration right's organizations and lawyers encouraging dreamers not to be afraid but rather be hopeful and motivated.
Norma Chavez-Peterson, Executive Director for ACLU San Diego and Imperial County, spoke to the hundreds of ralliers. "[Trump] won on the backs of immigrants, backs of black people backs of women… We cannot be unfocused and divided. Unless we come together across intersecting movements and build real power, we cannot continue to march forward."
"DACA was a Band-Aid," said Irving Uriel Hernandez de la Torre, when he referred to the program not solving any immigration issues. A DACA recipient and recent aerospace engineer graduate from San Diego State University, de la Torre said "Human decency is not rocket science."
"People are forced by situations to migrate, DACA recipients are being penalized for their parents' actions," said Nancy Cordoval, one of the many performers at the rally.
A representative from SDIRC made a statement via the event page following the rally, saying "Thank you for coming out everyone. To the DREAMers and DACA recipients: Don't panic, find legal help. To everyone who supports the undocumented community: Continue to stand and fight with us."
Earlier Tuesday morning, students at San Diego Mesa College held their own peaceful rally on campus, outside of the Mesa Commons Building. Holding posters and raising them to the air as students and faculty walked by, partakers of the rally, some DACA recipients themselves, stood proudly to showcase their support and their necessity for the program.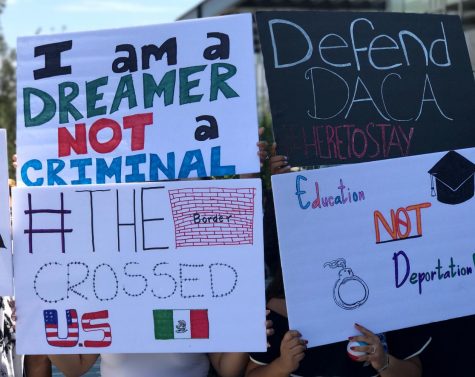 Under the program, Dreamers currently receive a renewable 2-year VISA allowing them to legally secure jobs, postpone deportation, and enroll in colleges and universities. Although recipients are able to live in the country legally, the program did not put individuals on a path to citizenship or permanent residence.
On the evening of September 5, Chancellor Constance M. Carroll, presidents Ricky Shabazz of City College, Pam Luster of Mesa College, Patricia Hseih of Miramar College , and Carlos O. Turner Cortez of Continuing Education sent out an email to students and staff of the SDCCD campuses, informing students of the district's' "commitment to the inclusion of all people, regardless of their race, ethnicity, heritage, national origin, immigration status, religion, age, gender, sexual orientation, gender identity, medical condition, or disability."
Within the email, readers were reminded of the bright futures students of SDCCD under DACA have ahead of them. It stated that the district is doing everything in it's power to ensure the safety of Dreamers and extend help to those affected by the end of the program. In the following weeks, SDCCD will be holding legal workshops on all campuses so DACA students may learn about their rights and seek legal help and protection.
In a letter to President Donald Trump written by Chancellor Constance M. Carroll she informed Trump of the 105,000 students enrolled in the school district. "Approximately 500 members of our student body are DACA students who are hardworking and successful in pursuing their studies," wrote Chancellor Carroll.
Ignacio Hernandez, City College's ASG President, is one of the 500 DACA recipients enrolled at a SDCCD campus. Hernandez gave comment to The San Diego Union-Tribune, saying "I have a lot of goals. Now I might not even get to reach any of them. I still want to continue with school. I still want to work. All of the things I have planned, it's on Congress to decide."
Since the Trump administration's announcement of the rescindment of DACA, 19 states and the District of Columbia have filed lawsuits against the administration.
Maine, California, Maryland, and Minnesota are the latest states to file lawsuits. During a press conference held on Monday Sept. 11, California Attorney General Xavier Becerra said, "The reckless choice to rescind DACA violated the Constitution as well as federal law."
San Diego City Councilwoman and DACA recipient Georgette Gomez asked, "Are we ready to fight for a better San Diego? For a better state that treats people with respect and humanity? [We] need to continue to grow this group because their is a bigger fight ahead of us."