Controversial YouTube video puts officer on leave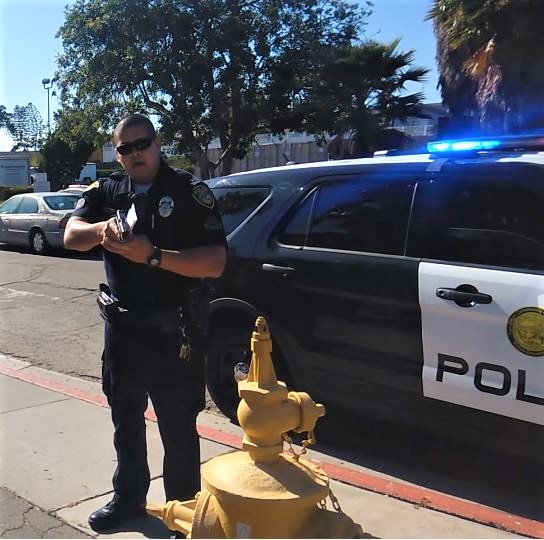 A YouTube video that showed SDCCD Police Officer James Everette pulling a gun on a photographer surfaced on May 16. Everette is now on administrative leave.
The video shows a photographer approach the officer who was performing a routine traffic stop. The stop was on Armstrong Place which is about a block away from the San Diego Mesa College campus.
The officer asked the photographer why he was filming and told him to put his GoPro camera down. The photographer said "I'm here checking everything out," and refused to put the camera down. The interaction escalated. Officer Everette had his gun out for about 45 seconds and drew it into low range. The gun was holstered when more police officers arrived.
The video is available on a YouTube channel called "The California Citizens Watch." The channel is run by a man who calls himself "Chris." He calls himself an "anonymous 1st Amendment auditor." Most of the videos posted on the YouTube channel are filmed in the San Diego area.
SDCCD Police Lt. Diana Medero would not comment on the video and said it was a "confidential personnel matter that is being investigated." The SDCCD Police Department issued the following statement; "Video has circulated of an incident involving a San Diego Community College District Police Officer which took place during a traffic stop near San Diego Mesa College on May 16. The officer involved has been placed on administrative leave pending the outcome of an internal investigation. The SDCCD takes any incident like this very seriously. We will not comment on the incident until that internal investigation is concluded."
Everette has been on the SDCCD Police force for over 10 years. The SDCCD Police Department said Officer Everette wrestled a violent former student to the ground 3 years ago. The suspect landed on Everette's right shin, fracturing his fibula. "He was in excruciating pain, but nonetheless remained in control of the situation." Everette received an award because of this arrest for "going above and beyond the call of duty."