Literary magazine "Mesa Visions" holds its annual award ceremony
The San Diego Mesa College literary magazine, "Mesa Visions," held their annual award ceremony on May 21 and awarded several english students for their writings submitted in the magazine. The categories included: fiction, poetry, and creative nonfiction.
Taking first place in the fiction writing category was James Hipp's piece "Too Late to Leave Her." Mikaela Wayne took first place in the poetry category for her piece titled, "Hermosura" and Anna Gasaway received first place in the creative nonfiction category for her piece "Neurofeedback."
Hipp and Wayne were big winners of the night as Hipp was also awarded second place in the creative nonfiction category for "Wedding in Santa Rosa." Wayne also received third place in fiction for "How to Make a Peanut Butter and Jelly Sandwich" and third place in the poetry category for her work "Apology to a Higher Power."
In addition to awarding students, the "Mesa Visions" team also recognized english faculty member, Wendy Smith, with the Faculty Honoree Award. Smith shared "What makes Mesa Visions so special is that it grows every time, and I'm really proud of [the students] and I'm really moved by this [award]."
English professors and hosts of the night, Jennifer Derilo and Jorge Villalobos, described how "Mesa Visions" started. Derilo shared, "It actually started with Bonnie Zobell who has recently retired, but she was a founder of Mesa Visions. She put together some of her students art in her creative writing class." Villalobos added, "Other english professors followed in Bonnie's footsteps and took on Mesa Visions each year."
Alongside professors, students of the Honors English 249 class are also responsible for crafting "Mesa Visions." Any student not a part of English 249, does have the opportunity to submit writings to the magazine through the various writing contests and submissions that are posted throughout the year.
English 249 student, Bryan Knight, shared his experience with the class. "The class is great, it's very inspiring. I took it because I wanted to be forced to write because I always thought of myself as a writer." Regarding his involvement with "Mesa Visions," Knight said "We get to pick a genre, so I picked fiction and I got to have my work published. It was really cool because I was on the fiction committee and I got to [help] pick the winners [for tonight]."
As students were awarded, some read their writings aloud to give the audience insight on the pieces that were being honored.
One piece that stood out was Tyler Chan's "44 Steps to Eating at a Restaurant with an Autistic Sister" which won honorable mention in the creative nonfiction category. His piece was about his 19-year-old autistic sister and laid out the 44 struggles he faces when he is out eating in public with her. This reading was a vulnerable time for Chan, as it gave the audience a look on what it's like living with an autistic person. The applause that followed after his reading showed the audience's support and showed how captivated they were by his writing.
"Mesa Visions" allows students to write whatever comes to their mind and be as creative as they wish. In regards to how the magazine came together, President Pamela T. Luster shared her thoughts before the ceremony, "What always amazes me is the incredible depth and thought that goes into the writing…I really commend all of you for going way beyond…the revisions to create this beautiful work."
About the Contributor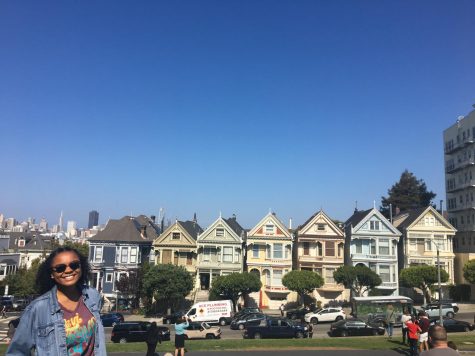 Aleah Jarin, Staff Writer
Hi! I'm Aleah Jarin, originally from a small town in northern California. I'm 19 years old and majoring in journalism at San Diego Mesa College. I would...