SDSU offers bachelor's degree program through Mesa College
San Diego State University has stated a partnership for the fall semester of 2020, offering bachelor's degree programs through San Diego Mesa College, as well as Southwestern College. 
The microsite degree program allows students from said community colleges to complete their SDSU bachelor's degree through online classes only. Both of the community colleges will be offering a business administration degree, while Southwestern will also be offering a criminal justice degree. 
According to Anne Hedekin, a counselor at Mesa College, 20 to 35 students from the two community colleges will have the opportunity to use the program for the first time. Due to its online nature, ideally, these students will not have to set foot on the SDSU campus. Additionally, they will have the opportunity to get instructional support on the Mesa campus from graduate students or lecturers from SDSU. The program's purpose is to provide better access towards the completion of a degree. 
The program will consist of eight weeks, and students taking two classes will be considered full-time. 
Hedekin commented that this program will best benefit students who are unable to move out of this region, who work full-time, or who are simply interested in online education.
"When they divide the state of California, we're region 10. Region 10 only has SDSU, UCSD and CSU San Marcos," informed Hedekin, referring to public universities. "If you get denied from those schools, you don't have a lot of choices." 
The microsite program allows students to complete the degree without the hassle of driving to the university, or having to navigate the large, heavily impacted, SDSU campus. 
"There are people that just prefer online," said Hedekin. "Maybe going to [San Diego] State is too much for them, and it affects their job. I think at first a lot of the focus group students that they had were of an older demographic, but I think they're gonna find that a lot of students prefer online programs."
The students enrolled will get all the benefits of the school like any other student, such as attending football games, using the career center, and using Mesa's resources. 
While, as Hedekin mentions, students are usually uneasy when it comes to online classes because of the lack of one-on-one attention, the microsite offers the best of both online, and on-campus education.
Applications for the pilot program will begin to be accepted on March 16, and the students will be beginning in the Fall 2020 semester. Students interested in applying can head to https://ces.sdsu.edu/explore/microsite-degrees or by contacting the Mesa Transfer Center for more details.
About the Contributor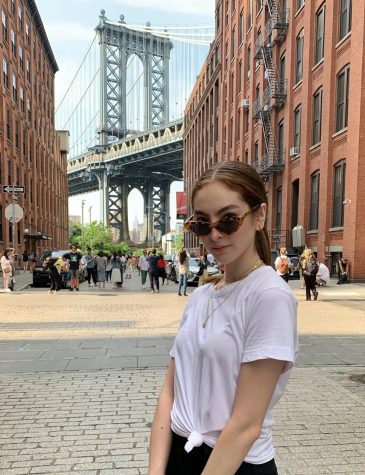 Ana Laniado, Staff Writer
Ana is a 3rd year Journalism (Advertising) student at Mesa. She will be transferring to SDSU next semester to continue to pursue her degree, and she wishes...