The Mesa College Pride Center, in room D-102, held a workshop on Oct. 17 breaking down common misconceptions about health care for transgender people. The workshop was hosted by Project Assistant Ari Garcia, Community and Identity Development counselor Michael Tiong, and student Natalie Brown. They introduced an interactive game of myth vs. fact where participants raised true or false signs to either confirm or deny the statement presented.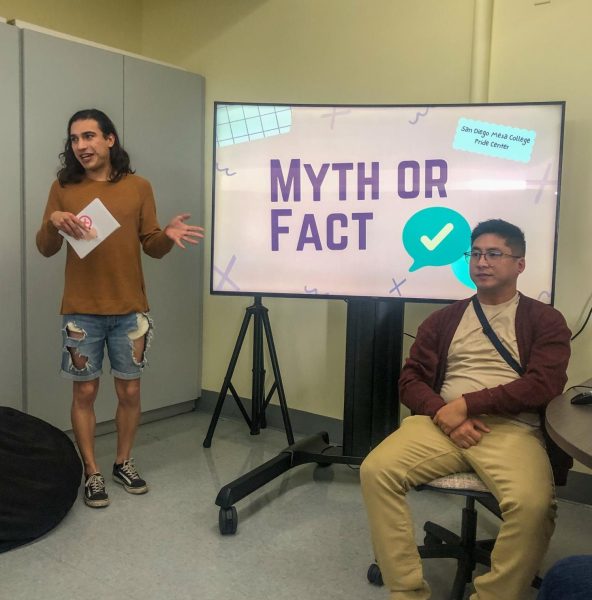 Gender-affirming care includes social affirmation, puberty blockers, hormone therapy, and gender-affirming surgeries, according to the Office of Population Affairs (OPA). 
There is much apprehension around gender-affirming care due to fears that it may be harmful and irreversible. However, it has been supported by every major medical and mental health organization because it can be actually life-saving for transgender people who experience dysphoria. 
Furthermore, with the exception of surgeries, gender-affirming care is reversible. Adopting gender-affirming hairstyles, clothing, names, pronouns, using correlative restrooms and other facilities, do not have to be permanent changes. This is known as a "social transition," and one can always transition right back. Puberty blockers are transient as well, with minimal to no long-term effects. Natural puberty will resume without any influence on fertility after discontinuation. 
Story continues below advertisement
Moreover, despite the outsized attention given to it, detransitioning is not a frequent practice. It is relatively uncommon, with reported rates of detransition and regret as low as 1-2%. It is also worth noting that these statistics do not account for the reasons behind detransitioning, which can be social stress and transphobia rather than an individual's own confusion about their gender. 
The increasing number of people coming out as transgender is not a trend, but a result of society becoming more accepting of queer identity. Young people feel more comfortable living as their authentic selves compared to past generations. 
Garcia decided to hold this event in order to celebrate LGBT History Month and to combat false beliefs about transgender people that lead to discrimination and violence. "I personally identify as a transgender woman, so this topic is very close to my heart," she added. 
When asked about the importance of gender-affirming care, Safi Al-Amin, one of the workshop attendees, said that "if we want people to feel like they can be themselves, which is the entire point of the LGBTQ+ community, then we need to understand gender-affirming care and know that there's more positives to it than there are negatives." 
For more information and resources from the Pride Center, contact the email  sdmesapridecenter@sdccd.edu or visit them during their office hours from 8 a.m. to 5 p.m. on Mondays to Thursdays, or from 9 a.m. to noon on Fridays.