Justin Timberlake needs to bring his sexy back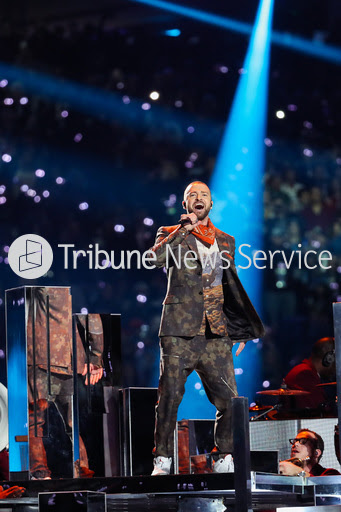 Timberlake's latest endeavors with the release of his newest album "Man of the Woods", and his lackluster performance at the Super Bowl Halftime Show left fans unimpressed.
Fans eagerly awaited Justin's performance with the hope of appearances from Janet Jackson or an NSYNC reunion show, but were let down with a dull production. Past performances with Katy Perry having brought out Missy Elliot, and Coldplay performing with Beyonce set the bar high for Timberlake. Despite this, the dancing was appreciable and entertaining, a subject J.T. has never lacked in.
Timberlake's outfit choice opened up another can of worms. He stepped out wearing a button-up shirt with mountain scenery and deers displayed on it, paired with a leather jacket and an orange bandana wrapped around his neck. About halfway through the show he slipped on his matching camouflage suit-jacket to top it all off. Many people tweeted that one could possibly buy the same ensemble from a local Bass Pro Shop.
However, Timberlake did pay tribute to Prince by way of projecting a video of him on a large screen and covering his song "Purple Rain". Prior to the Super Bowl, it was rumored that Timberlake would use a hologram of Prince during the tribute song. This stirred controversy because of the views Prince had on holograms. In an interview with Guitar World, Prince had strongly voiced his opinion against them. "That's the most demonic thing imaginable. Everything is as it is, and it should be. If I was meant to jam with Duke Ellington, we would have lived in the same age". Prince was a Jehovah's Witness, and although holograms weren't used, many found it offensive that Timberlake exposed him in a virtual way.
As for "Man of the Woods", the most popular track on the new album is an electro-funk song titled "Filthy", and is nothing to compare to his 2006 pop and R&B anthems. Its robot themed music video is equally as odd, showcasing a robot mimicking Timberlake's dance moves and of course, the overplayed trope of half-dressed dancing women. The new album consists of many genres including electronic, R&B, and even country. This album is all over the map, leaving J.T. fans confused and upset. Tracks like "Higher Higher" and "Montana" are recommended for listeners who want to hear something the old Timberlake would produce.
This album is nothing anyone could've predicted from the beloved Timberlake. His performance left a bitter taste in the mouth of supporters and prospective listeners alike, leaving fans to press replay on his old music and further disconnecting him from today's generation.