Mesa takes third at women's invitational water polo tournament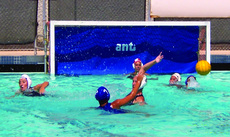 Hang on for a minute...we're trying to find some more stories you might like.
Mesa takes third at women's invitatiional water polo tournament. The competition was fierce at the San Diego Classic women's water polo tournament at Mesa College. The Olympians took third place, upsetting No. 2 ranked Ventura.
Cerritos College took first place and Fullerton College placed second. The tournament was held Sept. 29-30.
One of the most memorable matches of the tournament was against Citrus College on Sept. 29. The Olympians started out with a comfortable 3-1 lead in the first quarter. Citrus came back and tied it by half time. Both teams came out fired up after half time and traded off goals. It was neck and neck until the Olympians pulled away in the fourth quarter.
In the clutch, Mesa went on a three-goal run, securing the victory. Citrus scored one last time right before the buzzer, but it was a little too late. The Olympians won 10-9.
Standouts included first-year goalie Niki Lolis from Long Beach Wilson High School, with six saves and one steal; second year center Michelle King from Benica High School; second-year driver Elizabeth Celaya from Clairemont High School with goals and one drawn ejection; and second-year driver Jerie Seney from Valhalla High School, leading the team with four goals, two assists, and two steals.
The women's water polo team is led by Coach Jim Fegan. Fegan received the coach of the year award from 1999-2003 and in 2005 by the Pacific Coast Conference.
"He really does his home work," said first-year center Abbey Barnett, referring to Fegan.
"He prints out sheets for us with information about the teams we are going to play so we can learn how to expose their weakness," Barnett said.
Fegan keeps an eye on the teams in the Olympians' conference and talks to other coaches to learn their playing styles.
The ladies practice every day, except on game days, from two to four p.m. When they are not in the water, the Olympians are watching game footage to see where they need to make improvements.
"I like it a lot because I can see my mistakes and learn from them," said second-year center Katie Patonai.
The Olympians are part of the largest, most difficult conference in California. Despite this, last year the Olympians went undefeated in their conference with a record 8-0. There are six returning players from last year's team and 11 new girls.
On Oct. 4, Lolis set a school record of 24 saves in the game against Grossmont. Megan Leighton and Michelle King both had two goals against Mesa's biggest rival.
Lolis brings not only great hands to the team, but a lot of positive energy as well. She shouts words of encouragement to the other ladies when they are on the other side of the pool on offense.
Some of the ladies are superstitious during the season.
"I pray to St. Thomas Fargo, the great Hungarian water polo god before every game," said Patonai. "I also spit in the gutter before my fourth quarter sprint."
The Olympians have a conference record of 2-0 and an overall record of 11-4 as of October 6. The Olympians then go to Palomar for a conference match on Oct. 25. The ladies have the Pasadena mini-tournament on Oct. 27. Finally they have the Pacific Coast Conference Championships on Nov. 3-4 at Miramar.