Mesa Football Turns A New Leaf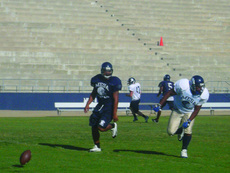 Hang on for a minute...we're trying to find some more stories you might like.
It's 2:00, and the players are anxiously awaiting their coach, Matt Kofler.
They so conveniently suit up in front of the hip hop class, peering in to catch a glimpse.
Their coach Matt Kofler caught them in the act, joking about the players not having any "game." Although, this might sound harsh, the players seem to adore him.
The energy between Kofler and the team was fun to be around. He combines a no nonsense persona, with comedy.
When Kofler is on the field he is no joke. He exudes confidence in his players. Maybe this is because he played in the NFL as a quarterback for the Bills and the Colts. With all this experience it's no wonder the team looks up to him.
As they headed off to practice, they looked like winners.
The Olympians won their first game of the season.
"Other teams voted us to lose [the first game] by two touchdowns," said outside linebacker Armon Harvey.
They won by three.
"We have all around great coaches on and off the field," said Harvey, "They are our mentors, tutors, and friends."
With the help of coaches, Matt Kofler, Henry Browne, Shayne Ganz, Tony Reid, LC Douglas, Lou Phillips, Sam Coe these players anticipate a winning season.
But coaching is not the only attributing factor to Mesa football's bright new attitude. They are enrolling in diverse classes that expand their minds and bodies.
The players are currently enrolled in art history, dance, yoga, jazz, ballet, and hip-hop, to name a few.
Harvey is enrolled in Art History. "It has really broadened my outlook on school," Harvey said. Although above all else, it's the game that he loves. "The desire to play football helps my grades a lot, no matter what subject."
"They should have a broad college experience. They're not just here to play football," Kofler said. Although he strongly encourages these classes, "We don't make it mandatory."
The team is shedding the "jock" stereotype. They take school seriously, involve themselves in extracurricular activities, and are dedicated; they practice for three hours or more each day.
The players said they feel this diversity will bring them positive energy on the field. Harvey shines a light on their new star athletes, Gui Ricciardulli, from Poway, starting running backs Correy Thompson and Zay Sheppard, and veteran ouside linebacker Mikah Matlock. Middle linebacker and returning player Dorian Harrod would like it be said that he "is the next big star."
Their confidence is holding true on the field. The second game was a double over time thriller. Mesa won 31-30. Ranking them 2-0 for a great start to the new season.