Women's soccer finishes 5th in nation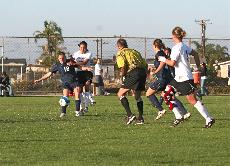 LaRina Seward
December 13, 2007
Hang on for a minute...we're trying to find some more stories you might like.
Mesa College Women's Soccer team is fifth in the nation and ranked third in the state. Several players are nominated for an "all American'" award. The team is comprised of five sophomores, and one freshman. Mesa's Women Soccer played a close game against Cypress. There were two overtimes. Anastasia Nelson, Chelsea Chelsea Gentry, Melanie De Salvo and Samantha Mellinger defeated Cypress 4-3 on penalty kicks.
Professor Todd Curran, 10 year Mesa coach, will begin signing after the playoffs in late December.