Mesa Women's Swim Team's Season Ends with a Series of Victories
The Lady Olympians have officially ended their season, and they went out with a bang.
They were victorious at the Pacific Coast Athletic Conference at Southwestern College on April 22, and then came in second at the state championships in San Jose on May 2.
Mesa won a majority of events at the Southwestern meet and broke several conference records. Overall, The Olympians collected over 31% of the total points possible, winning 16 different events. They blew the other teams out of the water, finishing with 764 points and beating the next closest team by over 200 points. Mesa had five different athletes win two separate events. Kiri Flatter, Maya Fielding, Carly Lupien, Julie Parsons and Allyson Hansen all stood at the top of the winners podium on two occasions.
The overall scores from the meet were Mesa in first with 764 points, Palomar in second with 556 points, Grossmont in a close third with 552 points, Southwestern in fourth with 432, and Crafton Hills came up last with 140 points. This is the third year in a row the Mesa women's swim team has won this conference.
After this victory, nine members represented Mesa at the State Championships in San Jose on May 2 through May 4. The team did exceptionally well once again, and placed in second overall. The lady Olympians had two individual state champions. Allyson Hansen was victorious in the 100 yard freestyle race, and Julie Parsons in the 200 yard backstroke. Both of these swimmers also finished second in other events.
"We had a much smaller team compared to the others, but we still were able to come together and pull off being state runner ups, with two of our swimmers taking individual wins." Parsons commented on the championship, clarifying,  "Ally in the 100 free and myself in the 200 backstroke. Relays are also very important and even if we didn't win any, everyone participated in them in order for us to gain the most points possible."
As Parson's said, the Mesa team also earned impressive scores in their many relay races. Allyson Hansen, Danielle Zambrana, Mia Lauer, and Thias Luiz came in second place in the 200 Freestyle Relay. The 800 Free Relay was swam by Hansen, Zambrana, Luiz, and Parsons was also a great success, as they came in  third place
The Mesa diving team also excelled at the championship. Maya Fielding took second place in the three-meter event and then sixth place in the 1-meter event. Andrea Probert also did well, earning  12th place in the three-meter event and 15th place one-meter event.
On top of all of this success, the lady Olympians also earned a few awards. Maya Fielding was named Diver of the Year and Julie Parsons was named Co-Swimmer of the Year for Mesa's  conference. Coach Jim Fegan was also recognized for his efforts and was named Co-Coach of the year.
About the Writer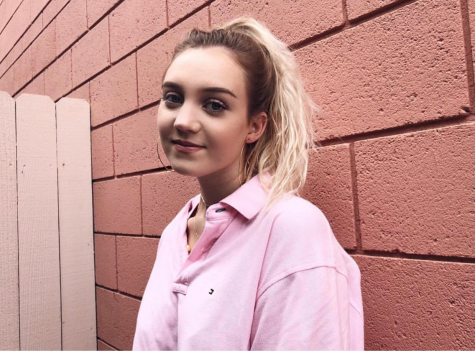 Maggie Irvine, Staff Member
Maggie Irvine is a 19 year old journalism major here at Mesa. She loves music and writing and hopes to someday combine those in a future career. This is...