The Mesa College men's soccer team found themselves embroiled in a high-intensity home game showdown with MiraCosta College. The match was a rollercoaster ride of emotions, ultimately hinging on a solitary first-half goal that would be the decisive factor.
Both sides fought for control throughout the first 45 minutes of the match. The scoreboard remained mostly silent, with neither team managing to break the tie. Then, in the 43rd minute, MiraCosta's midfielder, Jonathan Gomez, capitalized on a feed from their forward, Luke Adomey, to score the game's lone goal. This goal would eventually become the game-winner and a tribute to Gomez's precision and clinical finishing.
The first half was filled with tremendous activity, with both teams taking repeated shots on goal. The atmosphere in the stadium was tremendous as spectators awaited the game-changing moment. The second half, on the other hand, was marked by a furious defensive fight, with both teams working tirelessly to protect their respective goals. While the audience was treated to a display of athleticism and ingenuity, the scoreline stayed unaltered, with MiraCosta winning 1-0.
Gomez's goal was without a doubt the game's highlight. His ability to capitalize on Adomey's perfect assist demonstrated the brilliance and togetherness of the MiraCosta squad. However, the tenacious defenses on both sides were critical in keeping the game close. The goalkeepers, Jeshua Lombana of MiraCosta and Giancarlo Paredes of Mesa College were outstanding throughout the game. Lombana kept a "clean sheet" after making many key stops and ensured MiraCosta's goal remained unbroken. Paredes, on the other hand, faced constant pressure from MiraCosta's attackers and made five crucial stops but couldn't stop Gomez's perfect finish.
Story continues below advertisement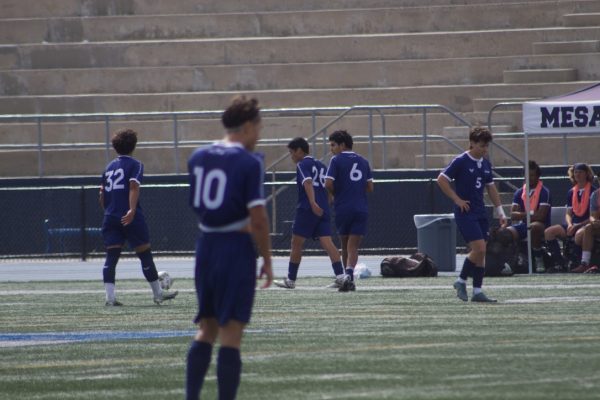 Despite their best attempts, Mesa College's offense was unable to create an equalizer. MiraCosta won by the slimmest of margins in the match. MiraCosta's loyal fans applauded the outcome, recognizing the significance of the win in keeping their playoff hopes alive.
The contest was not without drama, as the referee flashed yellow cards three times. Mesa College's Diego Merino was booked early in the game, and MiraCosta's Jose Mondragon and Jeshua Lombana were also booked later in the game. These moments injected a new level of ferocity to an already tense encounter.
Looking ahead, the San Diego Mesa men's soccer team will prepare for their match against Victor Valley College on Friday, November 3rd at 1 p.m. The club will be desperate to turn the tide and produce a positive result, despite a recent record of 1-2-2 in their past five games. Fans should expect more intense and fiercely contested contests on the pitch as the season develops. The stage is set for an exciting season finale, and the team will be eager to make their mark.