Ravings for Jackass 3D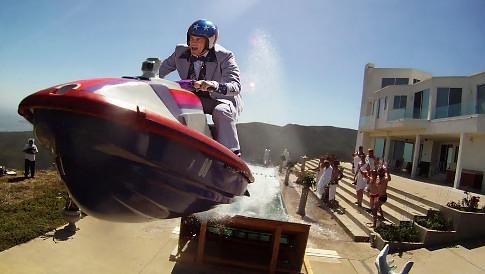 Jackass 3D is surprisingly a brilliant collection of genuinely humorous, but yet ever so trashy stunts. An hour and 34 minutes of your life will spent watching this film and not a second goes by that you wish you had not spent your money. In fact, after consuming this film you might just come out seeing the world in a whole new light. As you watch the film you'll start to wonder how humans can think of such things to do to themselves and each other.
The stunts featured in this film far surpass the ones previously done in movies 1 and 2. The general idea is that these stunts have matured into far more dangerous and painful creatures that are basically in the simplest form, more entertaining.
The new 3D aspect is presented in the film and makes itself rather effective, though not giving the film a whole lot of extra charisma. Throughout the film you will find brightly colored sex toys and pieces of feces flying past your face, but it seems that the 3D qualities were not fully taken advantage of. Even if one were to view the movie in the usual two dimensions, you shouldn't feel as if you missed out on much. Plus it's cheaper.
It seems as if the whole Jackass crew went for it all on this one. The creative juices flowed freely amongst the cast and crew and it's presented prominently throughout the film. As a viewer you can feel the radiation of positive energy from the cast. It looks as if they were having the time of their lives while filming the movie. You can't help but have a good time while watching.
Everything from the direction of the film to the quality and camera angles have been improved, making it quite more delectable for it viewers. It is by far the most artistically pleasing of the three, but at times drags through certain sections of the film. All in all, the movie is nothing new. It's all the same cast, same crew and certainly the same concept, but still the same good time. Isn't that what life is all about, just having a good time?