Parody plunders the artistic minds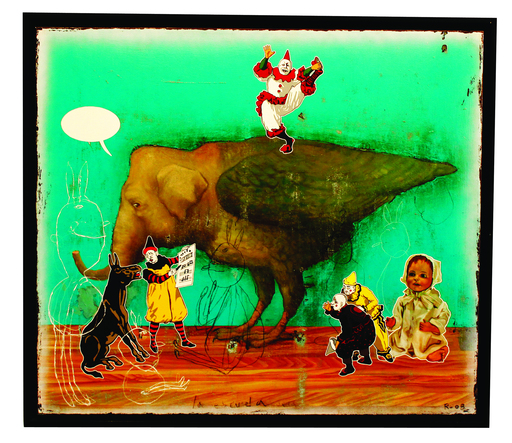 Steal a glimpse of the artistic layering of Armando Romero in "Parody and Plunder", his thought-provoking blend of classic styles and comic book graphics can be seen at the Mesa College art gallery during February.
Located in room D-101 the art gallery is open on Monday, Tuesday and Wednesday from 11 a.m. to 4 p.m. and Thursday from 11 a.m. to 8 p.m.
Known for his parodies of historical art, Romero layers several styles to fully develop his finished work. First gaining inspiration for the backgrounds of his paintings from classic artists and artwork, he then layers those initial images with graffiti, cartoon caricatures or pop culture references. This layering mocks a time in art where a definitive line existed between highbrow art (the more classical art styles) and lowbrow art (which include graffiti and comic books).
He received his classical education from "La Esmeralda" the National School of Painting, Sculpture and Printmaking in Mexico but also gleaned different techniques from his vast collection of comic books, vintage toys and superhero paraphernalia.
Raised in a family of artists and living only houses away from the famous artists Diego Rivera and Frida Kahlo, Romero was continually surrounded by creativity.
In the years Romero developed his style he helped bridge the gap between highbrow and lowbrow art. He broke through the boundaries defining art and introduced concepts that didn't fit into the conventional genres.
Guest curator Danielle Susalla calls his style "highbrow vandalism art" as each piece is multidimensional and allows for an appreciation of his classic technique and the evaluation of the underlying message for the layered figures.
Romero has the ability to see art in all of his surroundings and having widely traveled he has seen art in many forms. Susalla said he prefers to "breathe the visual world around him."
His ability to experience art and his understanding of artistic evolution probably helped in the creation of his lithograph pieces, which illustrate the history of progressive jazz. Susella said that each lithograph highlights the importance of jazz in modern music using a "photo realistic style".
By distorting the picture and drawing graffiti on the lithographs, Romero is able to draw the gaze of the viewer to key areas of his work. Causing the viewer to sit and ponder the underlying message of the layered motif.
In the piece "Provider of Dreams" Romero disturbs the relative serenity of the classical art piece "The Extraction of the Stone of Madness", this is a painting by the 1450's painter Hieronymus Bosch.
Romero depicts psychologist Sigmund Freud and movie director Alfred Hitchcock surrounding a man who is undergoing tests on his dreams. The foreground is littered with clowns and small comic-like caricatures from modern TV cartoons.
The clowns and characters from cartoons such as the "The Flintstones" and other Hanna Barbera shows seem to fly from the man's subconscious as though they were cut out and stuck on the canvas as an afterthought. The descriptive panel of the painting reads, "Questioning man's reliance on science instead of creativity to explain and interpret the true nature of dreams."
Science, literature and creativity continue to find their way into Romero's work as seen in his "Amazing Animal" series, which is based on old children's picture books where pages were cut into three flaps so that they could be mixed and matched to create a whole new animal.
The picture "Elephant" mocks animal cross-breeding by showing a hybrid elephant-bird. The clowns in the picture give it a carnival feel and suggest that you might find this animal in a circus side show.
Throughout his work Romero seeks a comical parody in the set criteria's for artistic style, which he uses to plunder about the artistic communities. He finds inspiration in both the illegal graffiti that litter walls around the world and the classic art that is eloquently hung in museums.
The "Parody of Plunder" is a thought provoking blend of culture, style and inspiration that you shouldn't miss.